The Pepsi Regeneration
The No. 2 soda company is broadening its sales effort
Larry Light
It wasn't your typical upbeat cola ad. As a recording of the Rolling Stones' Brown Sugar played in the background, a slouchy, disaffected teenager danced--and Pepsi-Cola oozed from his multiple piercings. It was edgy and outrageous, just what the marketing doctors at PepsiCo Inc. ordered.
But the teens that Pepsi hoped to snag didn't buy. And the spot turned off thousands of the great unpierced, including the Pepsi bottlers, who thought it too cynical and weird.
So Pepsi is heading back to upbeat and entertaining--something for everyone, not just those hard-to-please teens. New ads set to start rolling during the Mar. 21 Academy Awards hark back to Pepsi's glory days of the 1970s and 1980s, when the Pepsi Generation campaign helped boost the No. 2 cola's market share. The spots have it all: comedy, production numbers, a new jingle, The Joy of Cola, and even a cameo by Aretha Franklin. The star is a curly-haired girl with a yen for Pepsi and a supernatural ability to channel the voices of such celebrities as Marlon Brando, Isaac Hayes, and Franklin.
And the company plans to spend big to make sure it gets the exposure. For years, it could not afford Coca-Cola-size ad campaigns. Now it's anticipating taking in $4 billion from the spin-off of its company-owned bottlers. A source close to the company says Pepsi will spend as much as 50% more on promoting its top soda brand this year--more than matching Coke's $115 million in 1998.
Pepsi-Cola, the flagship brand accounting for 46% of the company's soft-drink volume, needs a major push. In the 1990s, Pepsi's case volume rose just 2%--as Coke Classic consumption increased by more than 30%. Going for a wider group of customers is the key to a turnaround, says new beverage chief Philip A. Marineau, the architect of the program. Coke's six-year-old "Always Coca-Cola" ads, a warm-and-fuzzy campaign aimed at all age groups, shows how successful the strategy can be.
FIRST STEP. Without better results for its beverages--which add up to 50% of revenue--the prognosis for PepsiCo itself is unclear. "They can't do it without a healthy core brand," says Gary A. Hemphill, vice-president of consultant Beverage Marketing Corp.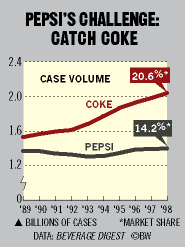 Beverage experts think PepsiCo has a good chance of success. New polls show it may be a mistake to craft ads for teens only, in hopes of gaining life-long loyalty for a product. "There are people of all ages who haven't formed loyalties and switch around a lot," says Marineau.
Marineau also says he has ended Pepsi's recent habit of scuttling new marketing campaigns before they can take effect. "They always went for that quick splash; it didn't work," says Skip Carpenter, an analyst for Donaldson, Lufkin & Jenrette Securities Corp. This time, says Marineau, the company will stick with the plan. That would be a good first step in meeting Pepsi's real challenge.
Before it's here, it's on the Bloomberg Terminal.
LEARN MORE