The Net Gives Schwab Its Bounce
by
Money manager David Post of Harris Bretall Sullivan & Smith in San Francisco, which manages more than $4 billion, goes for fast-growth big-cap stocks--and Internet plays. In July, Post bought oodles of America Online at a split-adjusted 28 a share. AOL has since rocketed to 92. But these days, Post is buying Charles Schwab (SCH), a giant in financial services--including low-cost online trading--catering to individuals and institutions.
Never mind that Schwab trades at a dizzying 91 times its earnings for the past 12 months. Post is the first to admit that, based on traditional price-earnings valuations, Schwab is by no means cheap. But the stock, he argues, is undervalued in light of Schwab's growth. It's difficult for Schwab to underperform, he says, because "materially" rising earnings are constantly forcing analysts to up their estimates.
Compared with its rivals, Schwab has done the best job of capitalizing on the Internet, he says. Schwab's growth--in revenues, profits, and customer assets--is due mainly to its Net business. The Internet, Post says, has sparked asset growth, thanks to the low-cost online trading that Schwab offers. Some 85% of the trades at Schwab this year were online, vs. 35% for retail trades at the Big Board and NASDAQ, he notes. Says founder and Chairman Chuck Schwab: "The Internet is still young and evolving, and we plan to evolve with it."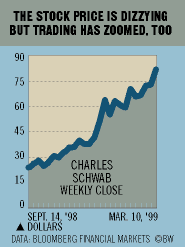 Post is also impressed by Schwab's "phenomenal rise as an asset accumulator." Since the fourth quarter, he notes, Schwab has outpaced Merrill Lynch in attracting assets from individuals, money managers, and mutual funds. In the December quarter, he figures Schwab added $23.2 billion to its stash of assets, while Merrill took in $17 billion. In the quarter ending in March, Post expects Schwab to attract $25 billion, vs. $20 billion for Merrill. Schwab holds some $521 billion in customer assets, compared with Merrill's $1.5 trillion.
Schwab's next arenas for growth, says Post, will be Japan and Europe. He thinks the stock, now at 78, could hit 100 this year, based on its long-term earnings growth of 30% a year. He thinks Schwab will beat estimates, including his higher-than-consensus $1.25 a share for 1999 and $1.60 for 2000.
Before it's here, it's on the Bloomberg Terminal.
LEARN MORE