From Israel With Knowhow
by
Formula Systems (FORTY), the largest publicly traded software-development company in Israel, aims to become a big info-tech player in the U.S., where AT&T, Ford, and Bell Atlantic are already among its customers. Formula acquires major stakes in small but technologically promising startups at low valuations.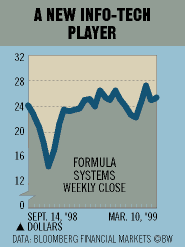 Analyst Victor Halpert of BancBoston Robertson Stephens thinks the stock, now at 25, is worth 45, based on projected earnings growth of 25% this year and next. What's distinct about Formula, says Halpert, is that it assists its units through different stages of growth, including helping them raise capital and taking them public. Among companies that Formula has helped go public are ForSoft, a provider of info-tech services, and Crystal Systems Solutions, which specializes in automatic computer conversions for the year 2000. "Formula makes acquisitions at reasonable values and then creates huge profits from them."
In February, Formula sold its 42% stake in Wiztec Solutions for $35 million. Formula acquired its stake in Wiztec in 1995 for just $300,000. Halpert predicts that Formula will acquire two U.S. info-tech companies this year. He sees Formula's revenues at $430 million and earnings at $2.42 a share in 2000, up from 1999's estimated $338 million and $1.97, respectively.
Before it's here, it's on the Bloomberg Terminal.
LEARN MORE