Ecuador: The "Worst Crisis In 70 Years"
Geri Smith
Having run out of options to save its battered currency, Ecuador's seven-month-old government shut down the country's banks on Mar. 8 for four days, and on Mar. 9 declared a state of national emergency. The surprise closure was aimed at stopping panic withdrawals as the government debated measures to rescue the sucre. But any plan, such as making the sucre fully convertible with the U.S. dollar, a new currency, or seizure of dollar assets at banks, will face opposition.
Brazil's devaluation had put the sucre under pressure, but then on Feb. 12 the Central Bank abandoned a four-year-old trading band and allowed the sucre to float freely. It sunk 40% in under a month (chart). Even before the free fall, though, Ecuador was hit hard by falling prices for its main export, oil, which provides about 40% of government income. And costly flooding caused by El Nino hurt the economy, which grew just 0.8% in 1998 and produced Latin America's highest inflation--43%.
Calling it the "worst crisis in 70 years," President Jamil Mahuad asked Congress for a hike of the value-added tax to 15% and a cap on government salaries to cut the budget gap and fight inflation. But Mahuad's Popular Democracy party holds just 33 of 121 congressional seats, and the populist Social Christian Party, with 29 seats, opposes any tax hike.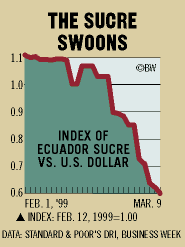 Also, Ecuador, with just $1.3 billion in reserves, must pay about $1 billion this year on its $16.4 billion foreign debt and must borrow $700 million more to cover a budget shortfall. The International Monetary Fund will likely demand further austerity and more progress on electricity and telecommunications privatization in exchange for aid.
Yet there is little appetite for austerity. Labor unions are staging general strikes. The oil-producing nation is rationing fuel. And the government has taken over a half-dozen banks, the most recent on Mar. 3. It's little wonder, then, that the mood in the country, which has had four governments in four years, is at rock bottom.
Before it's here, it's on the Bloomberg Terminal.
LEARN MORE