Are Golfers Getting The Short End Of The Club?
Grumbling on the greens over how the PGA divides the money
Mark Hyman
It won't be played on lush fairways, and Ken Venturi isn't going to be there describing the action in hushed tones. But few events on the PGA Tour this year will be as hot as the one coming up in late March at Ponte Vedra Beach, Fla. Not the Players Championship. Try the annual meeting of Tour golfers and officials that will precede that rich tournament. This year, the talk is sure to be about the controversial issues being raised by the Tour Players Assn., a small band trying to wrest some control of the PGA Tour from Commissioner Tim Finchem.
Formed last summer by Danny Edwards, a five-time tournament winner, the TPA has an agenda you'd think would resonate: Fatten the percentage of tournament revenues that go to players. Pay weekly stipends for living and travel expenses. Reform the governance system to give golfers more input. But talk about a tough dogleg. First, the TPA must mobilize pro golfers--a group of highly individualistic small businessmen who love what they do.
TEPID RESPONSE. As of now, TPA membership rolls stand at about 50 despite aggressive organizing. Fewer than half of TPA members have even paid a $1,000 initiation fee. Most troubling for the TPA, no superstars. No David Duval. No Tiger Woods. No Davis Love III. Says Love: "I just see a lot of negativism and a lot of distrust coming from a small group of guys." Even Payne Stewart, the 1991 U.S. Open champ who supports a number of TPA positions, has so far declined to join. "I'm a fence-sitter," he explains. None of that discourages the 47-year-old Edwards. "I'm not as concerned with being the most popular guy out here as I am [with] looking myself in the mirror each morning knowing I stood up for what I believed was right," he says.
Maybe Edwards hasn't gotten very far because this sort of thing isn't supposed to happen on the PGA Tour, where the golfers are management. Finchem runs the nonprofit, tax-exempt Tour with the consent of a policy board comprised of corporate captains (including General Electric CEO Jack Welch), the president of the PGA of America, and four tour players. They preside over a $400 million budget in relative obscurity. Among golfers, says Hughes Norton, senior vice-president of IMG, the sports management giant, "there's a wonderful sense of not rocking the boat, of `We have a nice little club here."'
Edwards claims that the PGA Tour has made life hard for the TPA. "I'm a bull's-eye out here. I'm picking arrows out of my back every day," he says. Probably. But some of the wounds are self-inflicted. A proposal to guarantee players thousands of dollars a week to cover expenses rankles older stars. "Expecting to be paid however you play has never been a part of golf's history," says two-time Masters champ Ben Crenshaw.
But the TPA has touched a nerve by calling attention to the growing gulf between the salaries of other pro athletes and the prize money golfers play for. Reigning Masters champ Mark O'Meara, for example, was the Player of the Year in '98, with two victories and career-high earnings of about $1.8 million. This year, 17 New York Yankees will earn more.
Tour officials discount such comparisons, noting that golfers aren't employees but independent contractors free to work as often as they like. They also supplement their incomes with rich endorsement deals. For top players, that can bring in 3 to 10 times tournament winnings. Finchem, who declined to be interviewed for this article but apparently has gone on the offensive, on Feb. 26 told CNBC: "We enjoy the best retirement plan in major sports, by far.... We're the only sport that I know of that has a successful senior tour for players to graduate to...and be able to play for significant amounts of prize money."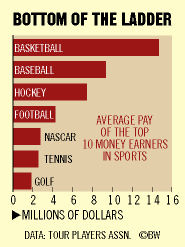 FAT PURSES. Still, says Edwards, that doesn't explain why the players get such a thin slice of Tour revenues--12%, he contends. Tour officials challenge his estimate, putting the figure for the players' share of revenues as high as 68%. But if the TPA's figures are even close to correct, the percentage golfers get is far below the 55% National Basketball Assn. owners will be paying players by the end of their new pact. It's also less than the percentages players receive in football, baseball, and hockey.
Still, the TPA has picked an odd time to cry poverty. This year, purses will hit a record $123.3 million, a 37% increase over 1998. In fact, prize money has jumped almost 200% this decade. That may keep the peace for now. But the TPA won't stop asking uncomfortable questions.
Before it's here, it's on the Bloomberg Terminal.
LEARN MORE