A High Risk Lender Laid Low
FirstPlus' troubles rattle the industry it pioneered
Wendy Zellner
Only last year, FirstPlus Financial Group Inc. was on the cutting edge of consumer finance. Former Vice-President Dan Quayle was a director. Miami Dolphins star Dan Marino was the TV pitchman. And FirstPlus was carving out a dominant position in the daring business of "high-loan-to-value" (HLTV) home-equity loans, which enable consumers to borrow up to 125% of the value of their homes. In all, FirstPlus accounted for a third or more of a market estimated to be at least $10 billion.
Now, FirstPlus is reeling. Since last fall, global financial turmoil has dried up funds for lenders like FirstPlus that depend on bundling loans into securities to raise money. Quayle left at the end of the third quarter to consider running for President, and five of six remaining independent directors departed in December. And FirstPlus has come under attack from shareholders and former executives who charge that management lent recklessly and spent lavishly--on everything from race cars to golf tournaments. The company's share price plunged from $62 in October, 1997, to 56 cents now. And two units were pushed into bankruptcy on Mar. 6.
FirstPlus Chief Executive Daniel T. Phillips declined repeated requests for comment on this story. Spokesman John R. Hauge, after brief comments, said the company was too busy to answer further queries.
While FirstPlus' fall has cast a taint over the industry, many observers feel the business will recover. Standard & Poor's Ratings Services estimates lenders will make more than $8 billion in HLTV loans this year, as banks and diversified finance companies that are less dependent on selling loans as securities pick up some of the slack. "We have an ongoing interest in the product," says Walter L. Fricke, managing director of GMAC-RFC, a unit of General Motors Corp., which is stepping up its HLTV activity. "The real key is staying power and deep pockets."
The business still has a logic. By taking out HLTV mortgages, consumers are able to refinance credit-card debts of 18% at rates of 13% to 14%--and receive tax deductions on some of their payments. There is also security for lenders, says Charles W. Cal-omiris, professor of finance at the Columbia University School of Business, who argues that home-equity borrowers are less likely to declare bankruptcy than credit-card borrowers. "The long-run fundamentals of this product make sense," Calomiris says. "Michael Milken didn't kill junk bonds. FirstPlus won't kill high HLTV."
SUPER BOWL JUNKET. But the FirstPlus experience is a cautionary tale. To keep up earnings, FirstPlus made increasingly risky loans, say shareholder lawsuits and some former executives. Gene T. O'Bryan, former president of FirstPlus's wholesale lending division, who left in March, 1997, says in some cases, mortgage brokers who sold to FirstPlus simply made a series of ever larger loans to the same customer. And by paying off the old debt, borrowers who were going deeper into hock managed to improve their credit ratings. FirstPlus barred such refinancing, but "nobody checked," he said. "The product became a flawed product," says O'Bryan. "There was no way for a borrower to get out of these loans....I think the defaults are still coming. The worst is yet to come." But another former executive, Jim H. Poythress, who left in May, 1996, insists that FirstPlus had systems to prevent such churning.
FirstPlus' own spending mirrored the reckless ways of some of its borrowers, O'Bryan and others allege. A shareholder suit filed in November claims that CEO Phillips used company money to fund a lifestyle that included two corporate jets staffed by flight attendants and an expense account totaling $2 million a month by August, 1998. O'Bryan says the company sponsored three to six celebrity golf tournaments a year and paid at least $5 million annually for two Indy race cars. And he recalls attending a $400,000 Super Bowl junket in New Orleans in 1997 for about 15 people, mostly FirstPlus executives. Company spokesman Hauge says of the car races and golf tournaments, "We believed they were returning value to us from a marketing perspective."
But it wasn't high living that crippled FirstPlus. Instead the company, like other lenders that depend on securitizing loans, ran into a liquidity crisis. Investors fled riskier investments after Russia defaulted on its debt. The handful of hedge funds that bought the riskiest pieces of FirstPlus' securitizations were unable or unwilling to finance more deals.
"PHANTOM INCOME." Questions about accounting added to the woes of securitizers like FirstPlus. As required by accounting rules, FirstPlus recorded up front the income it expected to get from its securitizations over the life of the loans. But in the meantime, its cash flow was negative. And when the prepayment, default, and discount rates it used to calculate its securitization gains proved flawed, the company had to take a $43 million pretax writedown in the third quarter of 1998. "They were overly aggressive in their assumptions, which led the investment community to believe they were making a lot of money, but it was phantom income," says Thomas J. Warrack, a director at Standard & Poor's, like BUSINESS WEEK, a unit of The McGraw-Hill Cos. Shareholder suits accuse the company of inflating results to boost its stock price. Hauge denies the charges and said the company will "vigorously defend" itself.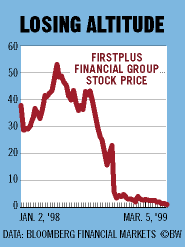 Making forecasts for a product less than five years old is tricky. "People were learning what the proper assumptions were," says Henry W. Hayssen, a group vice-president at Duff & Phelps Credit Rating Co. Hayssen adds that industry practices are improving, making "loans better for investors." And even with its problems, FirstPlus was able to sell $900 million of loans recently to U.S. Bancorp.
But it looks like FirstPlus won't bounce back with the market. The company has stopped making HLTV loans and laid off more than 3,300 of 6,200 staff. "I don't believe the 125 [percent loan] market would exist if it hadn't been for FirstPlus," says Fricke of GMAC-RFC. "They were gutsy pioneers." And they've got the arrows in their back to prove it.
Before it's here, it's on the Bloomberg Terminal.
LEARN MORE