This Car Market Can't Stay This Hot, Can It?
With rates inching up, February's sizzle may not last
by
It may be another grim winter in Detroit, but conditions couldn't be better for Motown's auto makers. "With high consumer confidence, relatively low interest rates, rising income, and low unemployment, it's the best of all worlds for the consumer," says ING Baring Furman Selz analyst Maryann Keller. The upshot: Even after six months of extraordinarily strong results, car companies scored a 12.5% sales gain over February, 1998. That puts the U.S. industry at a breathtaking annualized pace of 17 million units. Even better, those flush consumers are buying the most profitable autos: option-loaded minivans, sport-utility vehicles, and pickups. "We're not selling many stripped-down models of anything," says Bruce Bendell, president of Major Automotive Group in Long Island City, N.Y.
Strong January and February numbers have auto forecasters tearing up their two-month-old 1999 auto sales predictions. DaimlerChrysler Chief Economist Van Bussman, for instance, recently raised his estimate for U.S. light-vehicle sales to 15.2 million or better from his yearend projection of 14.8 million units. Others are now looking for this year to match last year's impressive sales of 15.6 million vehicles.
Why not aim higher? Industry insiders caution that February's red-hot pace can't be sustained. "Are we living on borrowed time?" asks Bussman. "We've had five years running of good auto sales. We've never before had more than two years back-to-back."
Already, analysts are fretting that February's blowout could prompt the slowdown by convincing the Federal Reserve to raise interest rates. Rates on auto loans are inching up along with those for bonds and other debts. A one-point rate increase would trim auto sales by 300,000 vehicles, Merrill Lynch & Co. analyst Nicholas Lobaccaro figures. Still, he adds, "only some kind of major oil shock or financial market calamity will cause a major drop."
Those worries did not slow auto buyers in February. American Honda Motor Co.'s sales jumped 14%, with its Odyssey minivan among its top sellers, while Toyota Motor Sales USA posted a 19% gain. General Motors Corp. enjoyed an 18% sales increase, and sales of Chrysler's brands rose 8%, led by strong sales of Jeep Grand Cherokee and Durango SUVs, and Dodge Caravan minivans. Ford Motor Co.'s 8% gain was powered by big increases in sales of its Explorer and Expedition SUVs.
DARK CLOUD. But every silver lining has its dark cloud. And you can count on GM to find it. Although the company did well, its performance is exaggerated because GM sales were weak in February, 1998. And, ironically, execs say 1999's rip-roaring market could doom GM's hope of boosting its U.S. market share above 30%. Why? Despite a parade of new models, GM still doesn't have what the market wants--at least not enough. "We haven't been able to build enough [vehicles] with the market as hot as it is," says Ronald L. Zarrella, president of GM North America.
In other words, customers with money in their pockets won't wait for a GM model and will buy a competitor's. Indeed, even GM's blazing February sales only brought its year-to-date share to 29%, below the 29.2% it hit last year. Zarrella says: "If we don't end up at 30%, everyone in the company is going to be disappointed."
So will Wall Street, which has grown tired of GM's litany of excuses for declining share. "GM has an excuse du jour," grouses Lobaccaro. "It's naive for them to think their market share is depressed [just] because the market is so strong." When the market eventually weakens, he contends, GM will have an even tougher time wooing consumers. Besides, analysts are baffled by the mixed signal the company is sending as it lays on special rebates of $500 to $1,000 for employees to buy new GM cars. "Do you need to offer your employees incentives if you can't build enough vehicles to keep up with the market?" asks NexTrend Inc. analyst Wesley R. Brown. GM spokesman James Farmer describes the employee incentive program in late February as "a little three-day push at month end to help out market share."
WORST SPOT. GM's biggest shortfall has come in the worst strategic spot--in the truck market. GMC and Chevy dealers have been fuming that, in the midst of the hottest truck market in history, Chevrolet Silverado and GMC Sierra pickups have only been trickling into their showrooms. "We're facing the spring sales season, and we need trucks," says Frank Ursomarso, a dealer in Union Park, Del., who says he's received only six Sierras in the past six months. "When the sun comes out, you can sell every truck you've got."
But GM may be making headway on pickup deliveries, at last. In February, sales of GM's big pickup jumped 18%. That's encouraging. But Ford posted a 27% gain in sales of its F-series trucks.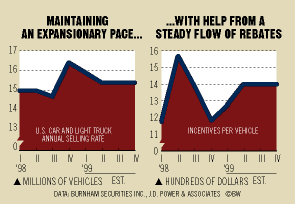 With GM lagging its market share goals, rival carmakers are watching anxiously for signs the auto giant might pile on new marketing incentives, as it did a year ago. In recent months, auto makers have dialed back on profit-sapping rebates, lease deals, and low-interest car loans (chart, page 34). But if GM acts, rivals would feel compelled to follow suit. "Incentives are team sport--everybody plays or nobody plays," says DRI analyst Lincoln Merrihew.
Another incentive war could keep the auto-sales juggernaut rolling. Dealers are rooting for manufacturers to keep the incentives coming. "We've got action," says Jeff Parker, general manager of Flemington Chevrolet-GMC in Flemington, N.J. "When you've got a cheap lease, you can really sell the cars." After the dizzying strength of the market so far, dealers and carmakers alike can't help but hope that 1999 turns out to be another bonanza year.
Before it's here, it's on the Bloomberg Terminal.
LEARN MORE