Rome's Face Lift Is Behind Schedule...But The Souvenir Vendors Are Ready
Monica Larner
Tour director Stefano Casu, 32, has been carting American tourists and religious pilgrims around Rome for over eight years. Juggling as many as three 40-person tours at once, he has learned that timing is everything. But now, his timing is off. Two years ago, the three-kilometer commute from his home in Monteverde to the Vatican took 10 minutes by car. Now, he spends as much as an hour snarled in traffic. To cope, he bought a cellular phone to warn groups when he's running late, and he comes to work on his beat-up Vespa moped. Says Casu: "The way things look now, the year 2000 will bring the apocalypse, starting at the Vatican."
Crazy traffic is just one consequence of last-minute roadbuilding as Rome gets in shape for 2000. The Eternal City will host the year-long Holy Jubilee, celebrating 2,000 years of Christianity, so it's undergoing a frenzied face-lift. So far, $4 billion has been spent on 6,000 projects, including new parking and hotel rooms to service the 29 million visitors expected in 2000, twice as many as in a normal year. "This is the biggest structural intervention in Rome since Fascism," says Public Works Minister Enrico Micheli.
The ambitious plan includes a crowded cultural agenda as well as public works. A new church, a new music auditorium, and two new museums will be opened. On the calendar are some 50 art exhibits and 25 concert festivals. New lanes are being added to both the airport highway and Rome's ring road. A 105-bus parking lot is under construction near the Vatican, and a permit system should eliminate the hundreds of parked tour buses currently congesting the streets. In addition, 15,000 never-before-seen square meters of the Imperial Forum will be excavated.
But with the days ticking off fast, many Romans wonder if all the work will get done on time. Already, plans to build a subway line connecting the Colosseum and the Vatican and a tunnel to relieve heavy traffic near the Vatican have been scrapped. Other projects are hopelessly delayed. According to a posted sign, restorations to the Colosseum were supposed to have been completed in January, 1998. But ugly scaffolding still clings to one of the monument's most picturesque sides, and the only movement to be seen on an average weekday is from stray cats. And the government, in a ploy to win more funds, has already declared a state of emergency for Rome in 2000 because it is unprepared to collect the extra 300,000 tons of trash per day.
GO AWAY. Official word is that Rome will be ready. But some officials are changing their tune. Culture Minister Giovanna Melandri recently presented her Rome "de-marketing" plan intended to entice visitors to other parts of Italy. Luigi Zanda, chairman of the Jubilee agency, says pilgrims who can't find housing in Rome "can try looking in the provinces." He adds that even if all the projects aren't finished in time for 2000, they will nevertheless contribute to bettering the city. "A little bit of pandemonium is part of human nature," Zanda says. "But we will evaluate 2000 in 2001."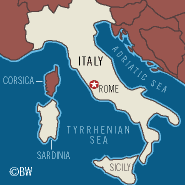 Want to pick up a $700 Bishop's robe with a hand-embroidered 2000 insignia, a smiling Pope T-shirt, or glow-in-the-dark rosary beads? Pope John Paul II has been pushing the Jubilee's spiritual side, but the event will offer numerous opportunities for profit as well. Liliana Montano manages the Arredamento Liturgico store, specializing in religious garments and altar cups, just steps away from the Pantheon. She has just added two commemorative Jubilee models to her line of religious robes. In addition, she has $110 Jubilee bible holders and $600 altar covers. And with a new Web page for online shopping, Montano already has seen a 10% sales boost in the past year and hopes to double that during the Jubilee.
On the other side of town, souvenir vendors are beefing up their stands and freelance Roman centurions are perfecting their smiles. Dressed in a red-and-gold plastic helmet and brandishing a fake sword, 37-year-old Giacomo Di Capua says he used to be a painter but now poses for tourists full-time. This father of two can make as much as $100 in tips on a sunny spring day. "If Rome gets organized, there's a lot of money to be made in 2000," Capua says. So ring in the Jubilee--to the sound of cash registers.
Before it's here, it's on the Bloomberg Terminal.
LEARN MORE