Is The Tech Engine Out Of Steam?
Profits are soft, and demand may be slipping
by
Bad news in the technology sector is piling up daily. On Feb. 16, Hewlett-Packard Co. and Dell Computer Corp. announced quarterly results that disappointed Wall Street--and punished their stock prices. Then, on Feb. 25, Compaq Computer Corp. told analysts that its results in the current quarter would fall short of expectations. In the first two days of March, Micron Electronics Inc. and 3Com Corp. both issued profit warnings for the first quarter, citing weaker-than-expected demand. And on Mar. 2, HP announced a plan to split itself in two, to help management focus on its pokey computer business.
Is tech spending, the engine that has helped power the economy in the last six years, sputtering? A survey of top corporations by market research firm Forrester Research Inc. shows they plan to raise information technology spending by just 1% this year, down from 4% in 1998. After plowing billions into new networks, phone companies are slowing capital spending increases to 9%-10% this year, from 15% in the past several years, says BT Alex. Brown Inc. The firm figures that some carriers will even cut budgets. Bell South Corp., it estimates, will cut capital spending by 6%, to $4.9 billion. All told, says analyst Vadim Zlotnikov of Sanford C. Bernstein & Co., tech spending in 1999 will climb at just half its historic rates.
Wall Street is plainly worried: The Merrill Lynch & Co. tech stock index fell 12.7% from early February to early March. One of the most alarming jolts came from 3Com, which said on Mar. 2 that its earnings will be one-third below expectations because of an "unexpected slowdown" in its sales to corporations, PC makers, and retailers--in other words, the whole ball of wax.
Still, nobody is predicting a long-term slowdown or a significant fall in demand for high-tech gear. Shipments of PCs and servers continue to climb, fueled by interest in the Internet. "We're seeing very solid growth in units," says Lewis E. Platt, HP chairman and chief executive officer. Indeed, retail PC sales were relatively strong in the first six weeks of 1999, says researcher PC Data Inc.
What's more, the economy is still robust. On Mar. 2, the Conference Board reported that its index of leading indicators was up for the third consecutive month. Inflation is still low and employment high. Says analyst Kurtis King of NationsBanc Montgomery Securities: "There's absolutely no macroeconomic reason for a tech slowdown."
Outside the U.S., the picture is not so rosy. PC shipments in Europe will grow at just half last year's rate, predicts market researcher Dataquest Inc. And Asia, while showing signs of recovery, still hasn't come close to its growth rates before the economic crisis.
The biggest single problem, though, is a chronic one in high tech: price erosion. Though PC unit sales are expected to climb 14% this year, revenues will increase 5% or less. "Falling prices are dampening revenue growth," HP's Platt says. Even computer servers, the high-octane machines that house corporate data and Internet content, are showing price weakness: Dataquest analyst Kim Brown projects that server units will climb 20% this quarter, but revenues will be flat.
The pricing pressure is spreading--from the consumer market where sub-$1,000 PCs rule--to corporate buyers. The price of the average business PC had been holding steady at around $1,600, vs. $950 for a consumer model. But this year, says Forrester Research, the average corporate PC will drop to $1,440--for one simple reason: "There's mounting evidence that corporate demand is weakening," says analyst Charles Boucher of Donaldson, Lufkin & Jenrette Inc.
The Year 2000 bug is another reason for folks to worry about tech sales. Analysts had expected corporations to accelerate tech spending in early 1999 so that they could freeze purchases midyear and test what they have for Y2K compliance. So far, the uptick hasn't materialized. And the diversion of resources into Y2K preparation is also slowing software sales growth, says BancBoston Robertson Stephens Inc. analyst Marshall Senk.
INTEL FACTOR. At the same time, delays in Microsoft Corp.'s Windows NT 2000 may be causing some companies to postpone new additions to their networks. "As we entered 1999, we saw scaling back or elimination of plans," says Eric Benhamou, CEO of 3Com.
Another factor is the switch to PCs using Intel Corp.'s new Pentium III. "Intel freezes the market whenever it rolls out a new processor," says Carl Howe of Forrester Research. That's one reason why Micron, which sells to the sort of tech-savvy buyers likely to hold out for the latest machines, got whacked.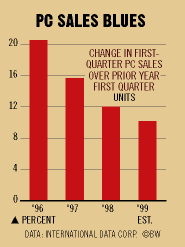 Now that the Pentium IIIs are here, however, they offer little hope of helping PC makers escape pricing hell. Intel introduced its multimedia chip at prices below the introductory prices of the Pentium II. And PC makers, sensing that customers won't pay top dollar for PCs any more, are introducing Pentium III systems priced as low as $1,599. Dell CEO Michael S. Dell dismisses the idea that anything unusual is afoot. In previous years, strong fourth quarters followed by new chip introductions from Intel have caused sales blips and inventory backups. "Have you seen this movie before?" he says. He figures his company, which holds no finished inventory, will thrive on the Pentium III transition.
Certainly, some tech companies are prospering, even as others stumble. Many that focus on the Net are especially successful. Cisco Systems Inc. and Sun Microsystems Inc., for example, have had no problems. And after three down years, semiconductor companies are expected to post 30% earnings growth this year.
Still, for the high-tech industry, the litany of bad news is jarring. If these darlings of the New Economy can't turn a decent profit, who can?
Before it's here, it's on the Bloomberg Terminal.
LEARN MORE