France: There's Still Fizz In The Bubbly
The euro zone's second-largest economy performed better than expected at the end of 1998, and the strength has laid to rest prospects of lower interest rates anytime soon.
France's real gross domestic product grew 0.7% in the fourth quarter over the third, or 2.8% from a year earlier. That pace is slower than in the first half, but the mix is far better. Earlier in 1998, massive inventory building and exports contributed the most to GDP. But now, domestic demand is fueling the gains (chart). In the fourth quarter alone, household spending rose 2.9% from a year ago. In turn business investment is responding to rising consumer demand, along with the need to make facilities more productive. Plant and equipment outlays were up 4.9% in the year ended in the fourth quarter, the strongest pace in nearly four years.
Consumers are more willing to spend because their fundamentals are growing sturdier. Job growth has picked up, and the unemployment rate dipped in January to 11.4%, the lowest since August, 1995. Consumer confidence is at its highest level in the 12 years of record-keeping. And buying power has been increased by rising wages and slowing inflation. Consumer inflation was just 0.2% in January. That's a yearly rate, not monthly, and it's the lowest in 44 years.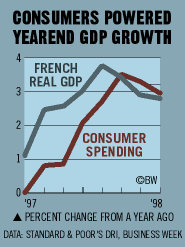 The muscle in the economy has slightly improved France's fiscal standing. The public deficit narrowed in 1998, to 2.9% of GDP, from 3% in 1997. Increased tax receipts, along with a drop in interest payments, cut the red ink.
France's growth rate was the third positive surprise among the 11 euro nations. The Netherlands and Spain also reported higher than expected GDPs, helping to offset the decline recorded by Germany. Consequently, expectations are waning that the European Central Bank will cut rates soon.
For all of 1999, France is expected to grow by 2.5%. Although that is slower than in 1998, it's still higher than the expected euro zone average of 2%. And the pace should be sufficient to allow the jobless rate to fall further.
Before it's here, it's on the Bloomberg Terminal.
LEARN MORE