Cool Conduits To Hot Net Action
By
When it comes to playing the heady Internet game, money manager Robert Lyon steers clear of the high-flying, volatile favorites. He thinks the smart way to go is to buy into some of the major equipment makers that keep the Net engine going. His top picks: Northern Telecom (NT), a leading supplier of telecom gear, and Motorola (MOT), a leader in cellular phone systems, semiconductors, and wireless and electronic products.
"Nortel and Motorola have the soundest technology in infrastructure equipment for the Internet and wireless communications systems," says Lyon, president and chief investment officer of Institutional Capital in Chicago, which manages some $11 billion. Compared with the other Internet plays, he notes, Nortel and Motorola are undervalued.
Lyon says Nortel, along with Lucent Technologies, is a wall-to-wall supplier in every dimension, from wireless to the Internet. The company last year acquired Bay Networks, which provides networking products such as routers and Internet access solutions.
Nortel and Lucent "have the entire plumbing for the Internet," he argues. "But Nortel trades at a great discount compared to Lucent." The two companies are expected to post about the same earnings this year, he says, but Lucent's stock is selling at around 100 a share vs. Nortel's 54. He thinks Nortel should beat the 1999 earnings estimate of $2.20 a share and earn $3 in 2000. He sees the stock jumping to 80 in a year.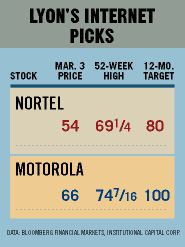 Motorola, notes Lyon, is on the comeback trail, with the turnaround in the semiconductor market and increasing sales of digital cellular phones helping offset the weakness in overseas markets. And its new line of digital handsets, he adds, will help the top and bottom lines. He thinks Motorola will beat the consensus estimate of $1.87 a share. Analysts note that Motorola's two bright markets are the Internet, driven by cable modems, and two-way messaging.
Shares of Motorola, which have slid to 66 from their 52-week high of 74, should hit 100 in 12 to 18 months, figures Lyon.
Before it's here, it's on the Bloomberg Terminal.
LEARN MORE