Commentary: The Shopping Spree May Be Ending. Good
Kathleen Madigan
For 18 months, Americans have shopped at an astounding pace, racing through malls like sprinters on steroids. From mid-1997 to the end of 1998, real consumer spending exploded at a 5% annual rate, compared with a 3.2% advance in the prior six quarters. But the days of super-spending may be ending. And believe it or not, that would be healthy for this economy: Less demand will head off a rise in inflation--and a hike in interest rates by the Federal Reserve.
An early hint that consumers may be ready to ease up comes from recent surveys by the Conference Board. The February confidence index on the economy's present situation jumped 5.5 points, to a record 178.4. But the index that covers expectations for the next six months rose by less than two points, to 101.2. In fact, the gap between the two indexes is the largest since the Board started tracking both components in 1977. In the past, the gap widened just as consumers began reining in their spending. It's as if people look around and think: "Things are great, but this can't last forever. Maybe we should think about a rainy day."
MEAGER SAVINGS. The Conference Board downplays any connection between the gap and consumer spending. But Board economist Lynn Franco says that expectations are a better indicator for spending habits than the current attitude index. A reading above 100 for expectations suggests a strong economy; one in the 90s suggests more moderate growth. Expectations only tipped above 100 in February; from September to January, expectations bounced between 88.7 and 99.6.
Why should consumers become more circumspect now? Forget job jitters. Consumers tell the Conference Board that they still view jobs as "easy to get." Less euphoria may reflect Wall Street's increased volatility. The bull market has been financing consumers' urge to splurge. Mutual funds and dividend checks are an increasingly significant source of extra cash, and massive capital gains have made consumers feel wealthier. That's why the saving rate tumbled from 2.6% in mid-1997 to -0.3% last December. If the rate had stayed at 2.6%, consumer spending would have grown 3%, not 5%.
Since last July, though, investors have been reminded that stock prices can go down as well as up. Consumers who believe that the days of double-digit equity gains are over may be deciding to spend less and save more.
Already, the data show some slowing of spending. Consumer purchases edged up 0.1% in January, down from the 0.3% monthly gain averaged in the fourth quarter, when the economy surged at an annual pace of 6.1%. Sales of new homes fell in December and January. And thanks to higher interest rates, mortgage applications in February are down 20% from their peak in October.
An economy growing between 2% and 3% is not a problem when record numbers of Americans already have jobs, when real incomes are rising, and when the trade deficit is close to becoming a burden. More important, the Fed wants the economy to slow. When Fed Chairman Alan Greenspan trekked up to Capitol Hill on Feb. 23, he warned that the Fed will not allow robust demand to trounce the central bank's hard-won progress toward price stability. And the U.S. economy cannot slow unless consumer spending does.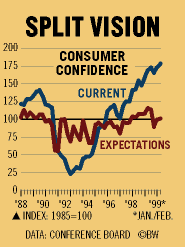 LESS IS MORE. But even if consumers return to counting their income--rather than wealth--before they make buying decisions, spending would increase about 3% this year. That's strong enough to keep the expansion of the economy going, but modest enough to avert cost pressures that could lift inflation. It also lowers the risk that the Fed hikes rates too much and the economy heads south. Slower growth and the prospect of no Fed tightening would calm the bond market and allow long-term interest rates to move lower.
So if household spending has shifted into lower gear, be happy. It's a case where less for consumers will mean more for the expansion in the long run.
Before it's here, it's on the Bloomberg Terminal.
LEARN MORE