Campbell Weighs A New Recipe
by
Shares of Campbell Soup (CPB) are, well, in the can. From a 52-week high of nearly 61 a year ago, they had crashed to 38 by Mar. 2. In 1999, the stock is down nearly 30%. On Feb. 16, Campbell posted a 27% drop in second-quarter profits, partly due to lower soup sales. Biscuit and confectionery sales also slowed. The stock's slide has accelerated recently partly on rumors that buyout talks with Philip Morris fell apart. What stopped the talks was the tobacco company's offer to buy Campbell with stock. The Dorrance family, which controls more than 50% of Campbell stock, wanted cash and was averse to accepting tobacco shares, according to one money pro at a New York investment bank.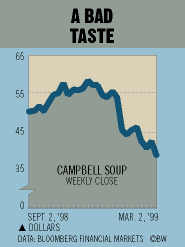 But there's good news ahead, say some big investors who have begun buying shares. They believe Campbell will undertake a key restructuring to boost profits and shares. "This major move will be extremely bullish for the wayward stock," says the banker. He thinks the company could split in two, or spin off or sell its food-service unit. A year ago, it spun off some noncore units, including Swanson foods and Vlasic pickles. Campbell makes branded food products worldwide such as soups, sauces, biscuits, and confectionery items.
Analyst William Leach of Donaldson, Lufkin & Jenrette Securities, who has a buy rating on the stock, figures Campbell will earn $1.88 a share this year and $2.15 next year, vs. last year's $1.90. His target for the stock: 57. Campbell spokesman Mike Kilpatric declined comment as a matter of company policy.
Before it's here, it's on the Bloomberg Terminal.
LEARN MORE