Big Harvests, Bigger Blues
Another global glut depresses U.S. crop prices
Andrew Osterland
Last fall, with farm prices plunging to some of their lowest levels this decade, Ron McCartney held off the market much of his soybean and corn harvest. Like thousands of other farmers, he figured prices would rebound in early 1999. They haven't. In fact, they're weaker, and McCartney, who works 1,700 acres in Elgin, Iowa, has bills to pay and fields to plant in less than two months.
Across the Midwest, as spring planting approaches, U.S. farmers are preparing for another tough year. Because of the fourth straight bumper crop of soybeans in Brazil, soybeans are the latest product to get crushed. The March soybean futures contract has fallen 25% since early December to a 12-year low of $4.50 per bushel at the Chicago Board of Trade. "It certainly wears on the nerves," says McCartney.
EXODUS? There's little hope of relief, either. The Agriculture Dept. sees net farm income of $44.6 billion in 1999, 7% lower than last year. And most analysts expect that forecast to drop by the end of March. Farm exports are expected to fall 9%. And with global stores of corn, soybeans, and wheat swollen from three years of good harvests worldwide, the prospects for higher grain prices are dim.
The situation is worse in livestock. Although hog prices have risen from a 50-year low of 10 cents per pound at the end of 1998, they are still well below even the most efficient producer's break-even price. If small farmers take the hike as a signal to bail out, prices could fall again.
Could farmers be headed for a repeat of the mid-1980s' depression? Probably not, since they're carrying lower debt burdens and energy costs are way down. But "if prices stay where they are now, we're going to see a mass exodus of farmers by next year," predicts one Midwest banker.
Not surprisingly, farmers are cutting back. Fourth-quarter sales of major farm equipment in North America were down a staggering 33.4% from the prior year. Profits at Deere & Co. fell 74% in the quarter, and Case Corp. posted an operating loss of $1.37 per share.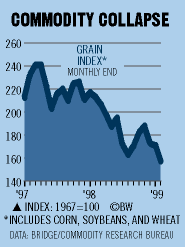 The bankers, too, are getting worried. Land prices are slipping for the first time since 1987--not an encouraging trend when higher interest rates threaten further decline. And farmers still holding crops from market may have a hard time making loan payments. "There are pockets where things are very tough," says Thomas Boyer, president of Farmers State Bank in Fairmont, Neb. In response, agricultural lenders are raising reserves, tightening lending requirements, and restructuring some loans.
Even before this year's crops are planted, farmers are talking about the need for federal assistance. Last fall, Congress came up with some price supports and $6 billion in emergency aid just before Election Day. But this is not an election year, which could leave farmers to shift for themselves.
Before it's here, it's on the Bloomberg Terminal.
LEARN MORE