7th Street Eyes Easy Street
by
The tiny Internet content provider known as 7thStreet.com (SEVL) soon may become a Web standout. It provides advanced, interactive, online training courses and tutorials--complete with full audio and graphics. The company is about to announce a pact with America Online.
7thStreet's Tutorials.com will become an "anchor tenant" in AOL's Computing and Workplace Channels. It will offer AOL users more than 200 courses on such popular business applications as Microsoft Office 95, as well as programming, networking, and Web use.
AOL is said to be also eager to launch a software package that will teach customers how to set up stock portfolios through 7thStreet's online learning systems. Other major Net and tech companies are due to sign pacts with 7thStreet, including a blue-chip tech giant, a leading computer maker, and several Net service providers.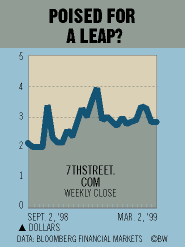 "We have a huge market in delivering enriched methods for learning everything on Internet software," says 7thStreet.com President and CEO Stephen Gott, a chief technology officer and chief operating officer at Lehman Brothers before forming Street Technologies in 1995. The company recently merged with 7th Level, a maker of Net software tools, renaming the new company 7thStreet.com.
"We see 7th-Street as one of the best undervalued investments on the Internet," says a New York money manager who has nearly 5% of the shares. The stock, trading at nearly 3, "could triple in 12 months," he says.
Before it's here, it's on the Bloomberg Terminal.
LEARN MORE