Will Motorola Speak To Net Speak?
by
For a small company, NetSpeak (NSPK) hobnobs with some telecom biggies, including Motorola, which has accumulated a 32% stake. NetSpeak's claim to fame, says Robert Goldman of New York investment firm Josephthal, is its call-agent technology, which has been integrated in Motorola's wireless and wire-line technology. One NetSpeak product lets customers talk to a live service agent while they are online.
NetSpeak stock hit 32 in April, 1998, but started to skid when analysts noted that competition in the Internet telephone industry was intensifying. The stock dropped to around 5 in October. It has since rallied, closing at nearly 13 on Feb. 23. In the fourth quarter, a big chunk of NetSpeak's sales were to Motorola. But NetSpeak has yet to make money.
There is speculation that Motorola may expand its stake in NetSpeak or make an offer for the whole company. Motorola paid about 30 a share last year when it raised its NetSpeak holdings from 15% to 32%. "If Motorola really has its eye on NetSpeak, this is the time to move--when it's stock is still way down," says one California money manager.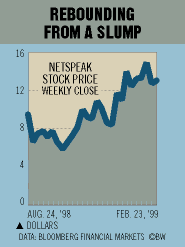 Goldman thinks Motorola will need to buy NetSpeak sooner or later for its Net telephony technology. At a recent cable show, Motorola introduced its Vanguard Gateway platform that integrates NetSpeak's technologies to provide Internet routing of phone calls. Motorola makes the hardware and NetSpeak provides the software to deliver voice and data over cable modems, says Goldman.
He believes that, as new uses for NetSpeak software are deployed, the company may seek alliances with other hardware makers, such as Lucent Technologies or Cisco Systems. These two are leaders, he notes, in making Net telephony gear, but they lack software components required to deliver "a full solution." Motorola's George Grimsrud declined comment, and NetSpeak CFO John Staten said the company did not comment on market rumors.
Before it's here, it's on the Bloomberg Terminal.
LEARN MORE