Why Aol Keeps On Climbing
By
What now, America Online (AOL)? After six stock splits in seven years and with shares blasting to new highs, is the king of online services still a buy? A number of analysts and investors say AOL is a Net must.
And there are rumors on the Street that AOL may well be the target of the likes of AT&T for a merger of near-equals. But analysts think AOL's huge market capitalization of $83.5 billion would deter any potential partner.
Instead, investors are gung ho on AOL because of its fundamentals. "AOL is firing on all cylinders," says Michael Wallace, a Net maven at Warburg Dillon Read. He says AOL's strategy of seeking revenues from diversified E-commerce and ad sources "will continue to pay off." He expects the "momentum behind the company's recent 2-for-1 split will continue."
On Feb. 1, Wallace renewed his "strong buy" rating on the stock and raised his earnings estimate from 28 1/2 cents a share to 35 cents for fiscal 1999 and from 43 cents to 50 cents for 2000. In 1998, earnings were just 8 1/2 cents a share.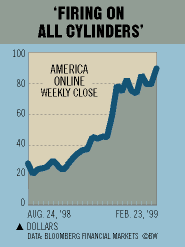 Wallace figures AOL is worth 110 at least, compared with its current price of 88, based on an estimated value per subscriber of $30 over the next two years and a subscriber base hitting 45 million by 2003. AOL now has 17 million subscribers and sees 19 million by yearend.
What about fears of an Internet "bubble" that's ready to burst? Analyst Mark Cavallone of Standard & Poor's thinks AOL is unlike other Net plays: Its solid subscriber growth and revenues partly offset the seasonality of E-commerce and ad sales, says Cavallone. He focuses more on the price-to-sales ratio: Based on estimated sales in calendar 1999 of $4.5 billion, that ratio is just 20, figures Cavallone, way below Yahoo!'s current 90 price-to-sales multiple. Based on that multiple, Cavallone figures AOL stock will hit 115 this year.
Before it's here, it's on the Bloomberg Terminal.
LEARN MORE