Unilever, Procter & Gamble...And Kao?
The Japanese manufacturer wants to be a global power
Miki Tanikawa
If the Japanese are justly famous for discouraging innovation, Kao Corp. is a mold-breaker. While most of the rest of Corporate Japan slogs through another year of recession, the Tokyo-based maker of household products is about to report record profits, of more than $300 million, for the year to Mar. 31. One reason: a cleverly designed cosmetic device aimed at young consumers with complexion problems. Since its debut two years ago, the Biore Pore pack has spread through global markets like fire through a parched forest. Suddenly, Kao is running with giants Procter & Gamble Co. and Unilever Group. "If you compare their products," says Toshihiko Ginbayashi, an analyst at Morgan Stanley Japan Ltd., "Kao surpasses P&G in most categories."
No mean accomplishment. While Kao's soaps, shampoos, and detergents are top sellers at home, it has been a big-fish, small-pond story. Last year, Kao reported earnings of $185 million on revenues of $6.9 billion. Compare that with P&G's $37 billion in worldwide sales, or Unilever's $50 billion. But overseas sales are already a third of total revenue, up from 20% just three years ago. And now, boosted by the success of its pore pack, Kao is determined to go global with personal-care products dreamed up in its own labs.
STRIP MINE. Kao's new resoLve is already evident. When Andrew Jergens Co., its U.S. subsidiary, acquired the Curel brand from Bausch & Lomb Inc. last year, Kao jumped to No. 2 in the U.S. skin-care market, behind Unilever. Now, the company wants to develop its Biore brand in the U.S. and European markets. In Asia, it aims to consolidate its strongest product lines--detergents and sanitary napkins, for instance--before pushing into areas where it now lags. Says Takuya Goto, Kao's president and chief executive: "We need highly unique products."
That's a fair description of Kao's basic bet on innovative products to Help close the gap. Take the pore pack, a $5 box of 10 strips that the user bands across the nose; when peeled away, the strip removes the oils and dirt that clog pores. Unit sales are now 9 million a month, chiefly in Japan, the U.S., and Western Europe--where Marie Claire and 15 other fashion magazines named it consumer product of the year in 1998.
The pore pack reflects a longstanding commitment to product development. Of Kao's 7,000 employees, 2,000 are dedicated to research and development--more than triple the proportion at P&G. Unique is the word for some of Kao's hits: Car Mypet Vega, a waterless car wash in a spray bottle; and a miniature folding mop called the "Quickle Wiper." One reason such oddities succeed is Kao's assiduous use of housecalls to gauge consumer responses to product ideas.
Kao also seems committed to a corporate makeover. Executives want to replace the seniority management structure with a pay-and-promotion system based on merit. In a recent nod to shareholders, Kao closed a loss-making unit that manufactured floppy disks--a painful move for a Japanese company.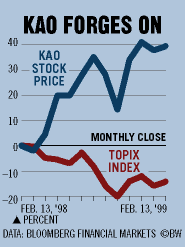 Kao executives figure they have to act fast or lose out to P&G and Unilever, which are expanding in Japan and Asia. "Unless you aggressively seize opportunities abroad," says President Goto, "you will be overwhelmed." The new thinking seems to please investors. In a market that tumbled by a third last year, Kao's share price gained by almost the same percentage. Foreign investors have doubled their holdings in the stock in the past three years, to 25%.
Kao's transformation will not be easy. Some analysts say Kao does not yet make full use of managers with international experience--a common enough problem among Japanese corporations. And its 6% return on equity is minuscule compared with P&G's 28% or Unilever's 24%. At least no one at Kao seems to be ducking the difficulties. "We must bring ourselves closer to the world's best firms," acknowledges Shotaro Watanabe, Kao's executive vice-president and chief financial officer. Pore packs will help, but the hits must keep on coming.
Before it's here, it's on the Bloomberg Terminal.
LEARN MORE