The Russian Crunch Has Dubai Crying...But The Mob Is Still Moving Goods
Sagging oil prices aren't to blame. Nor is Asia's recession. Instead, it's the shortage of Russian women that has the merchants of Dubai feeling gloomy. And they don't mean the ladies who walk the streets in garish makeup offering their services for $50 to $250. The Russians they miss are the ones who spend money--serious money--in a country that has elevated shopping to a national raison d'etre.
Russia's crumbling finances, in fact, have dealt a nasty blow to Dubai. With a population of less than 750,000, this hot and humid enclave, one of seven sheikhdoms in the United Arab Emirates, relies on its wholesale and retail trade even more than oil to power the economy. The ruling elite has made Dubai a free-trade mecca for tourists and a low-tax paradise for merchants and investors. The move has been a huge success, with gross domestic product growing at 9% annually from 1993 to 1997.
But now, Dubai's shopkeepers are suffering that rare phenomenon, a slump. "I used to sell 5,000 watches a month. Now, I hardly sell 2,000," says A Amjad Ali, general manager of Al Mashreq International Trading. For that, Russia's woes are largely to blame. In 1997, Russian visitors to Dubai numbered 260,738. The traffic held strong through the first quarter of 1998 but then fell off sharply. Of course, even accounting for the steep drop, Russian visitors, at 160,785 by the end of 1998's third quarter, still made up the largest group by far.
Two years ago, say Dubai's traders, the Russian hordes bought almost 40% of their goods. That number has dropped by about half. Textiles, vehicles, and electronics constituted half of total Russian purchases of $112 million in 1997, down from $140 million in '96. The number was expected to fall again in '98. Some cargo agents have seen volumes drop from 1,200 tons a month in 1996 to about 100 tons in '98. In fact, businesses as far afield as Singapore and Thailand have been affected because Dubai traders acted as their intermediaries to the once booming Russian market.
Even now, Russians can be seen everywhere in the congested, dusty lanes of the old city, as well as in the swank malls and the Hard Rock Cafe of the new. They saunter along in short skirts, jeans, and T-shirts, easily spotted among the dark-skinned Arabs, Indians, and Pakistanis. So popular are they that most businesses sport signs in Russian and English, while Mashreq's Ali even prints his business cards in those languages.
Then there are the other Russians, who stroll more skimpily clad. Their highly visible presence would seem to offend Dubai's Moslem culture. But the craving for a capitalist paradise has brought liberal laws on alcohol, numerous discotheques, cable television, including MTV--and a tolerant attitude toward prostitution. In fact, immigration officials, who at one time seemed to have clamped down on entry visas for young Russian women, have eased up again. "The government here is very pragmatic," says one local trader. "It's only concerned with business. And that," he adds ominously, "is down."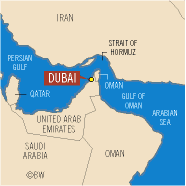 Natalia, who's in her late 30s and prefers that her last name not be used, was one of the Russians who discovered Dubai in the early 1990s. She began ferrying large shipments of goods to her home country before setting up a travel agency in Dubai. Now, she says, the Russian mafia has taken over the business of importing goods, using couriers. The mob covers travel expenses for about two weeks in Dubai, and the courier returns bearing Sony TVs, video recorders, or even flashy cars. Customs agents are paid off. The couriers fly in chartered planes run by airlines with names like Flying Dolphin, which, along with others, flew as many as 10 flights a day in 1996-97 into Dubai's twin city, Sharjah, where airport fees are cheaper.
Now, Flying Dolphin has stopped flying for lack of business. But that hasn't discouraged other entrepreneurs. Serik Lebayev, whose Hyacinth Rahat airline is based in Sharjah, has turned his sights on Central Asia. He sends an Airbus-350 twice a week to Almaty, the commercial capital of Kazakhstan, and is able to make money even though a round trip costs $62,000. "Kazakhstan is big now. We fly quite full," says Lebayev, a Kazakh. "And the Russians will start buying again." In Dubai, he's not the only one chanting that mantra.
Before it's here, it's on the Bloomberg Terminal.
LEARN MORE