Italy: Driving Down The Deficit, Poco A Poco
by
On Feb. 8, the European Union's Finance Ministers gave the O.K. to Italy's three-year budget and economic plan, but they cautioned that more spending cuts may be needed. Indeed, with economic growth faltering, analysts believe that the blueprint is too ambitious but that the downward deficit trend should remain in place.
The government says it will cut its deficit from an expected 2.7% of GDP in 1998, to 2% in 1999, and down to 1% by 2001. However, growth will almost certainly fall short of the budget's projection of 2.5% growth for 1999. Officials already have said that yet-to-be-reported 1998 growth was only about 1.4%, and on Feb. 15, the government sliced its 1999 forecast to only 2%, which most economists believe is still too high.
The unexpectedly sharp drop in December industrial production suggests that Italy's 1998 weakness, the worst in the euro zone, is carrying into 1999 (chart). The malaise in the euro zone's third-largest economy accents the region's broader frailty, recently highlighted by Germany's 0.4% drop in fourth-quarter GDP. Like Germany, Italy depends heavily on exports, more than half of which go to its European neighbors, where Italy's export growth is stagnant. Foreign shipments to Asia and other depressed markets are off sharply.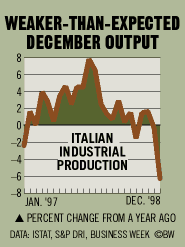 Italy, which was admitted to the euro zone with overall debt at twice the euro zone guideline of 60% of GDP, must maintain its new fiscal responsibility. But the weak, three-month-old government is also committed to reducing unemployment.
The good news is that the sharp drop in interest rates in the runup to the euro will spur growth later in 1999, and with one-year rates well below the 4.5% budget projection, significant savings on debt service will offset some of the revenues lost to slower growth. The likely result: While the 1999 deficit will not make the 2% goal without politically and economically difficult interim action, the deficit should still come in well below the 1998 level.
Before it's here, it's on the Bloomberg Terminal.
LEARN MORE