What's good for General Motors is good for well, Noble International (NIL), which supplies auto parts to Ford, DaimlerChrysler, and Honda, among others. The stock's performance is impressive, too: From 6 1/2 on Oct. 19, 1998, the stock climbed to 11 on Feb. 23.
What's Noble's secret? Nothing fancy--just robust sales and earnings growth. Revenues in 1998 rocketed 289%, to $94.8 million, and earnings before interest, taxes, and depreciation zoomed more than 400%, to $15.3 million, up from just $2.8 million in 1997. Excluding a nonrecurring item, net income jumped to $4.3 million, or 61 cents a share, from $573,000, or 13 cents, in 1997.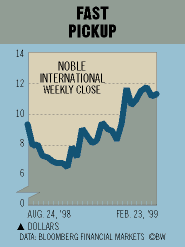 Better numbers are due in 1999 and 2000, says Kurt Kammerer of BlueStone Capital Partners, a New York investment and merchant bank. He expects Noble to make $1.25 a share on sales of $148 million this year, and $1.50 a share on $167 million in 2000. A big part of the growth stems from acquisitions. Noble CEO Bob Skandalaris says acquisitions will continue, although the company is expected to internally generate growth of 20% to 30% in 1999. One goal over the next five years is to spin off one or two units to bring out Noble's real worth Kammerer says Noble could deliver 20% to 25% earnings growth a year over the next three years. His 12-month target for the stock: 20.
Before it's here, it's on the Bloomberg Terminal.
LEARN MORE