Stride Rite Steps Right Out
by
Stride Rite (SRR) is springing back. Under the stewardship of new CEO Jim Eskridge, who was a key player in Mattel's turnaround, sales of Stride Rite's Keds sneakers have reversed a five-year slide. And its licensed Tommy Hilfiger footwear, which posted a pretax loss last year, should be in the black in 1999. But to sustain strong growth, says Merrill Lynch's Simantee Nag, Stride Rite must buy "a branded $200 million footwear company."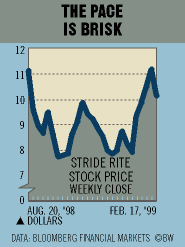 If Stride Ride doesn't make a major purchase, it could get taken over, says money manager Forrest Mervine Jr., who has been accumulating Stride Rite shares. "I'm surprised no one has swallowed up Stride Rite, which clearly is undervalued--a fine balance sheet with no debt," says Mervine, managing director of investment firm Philadelphia Corp. Based on fundamentals alone, the stock, currently at 10 5/8, is worth 20 a share, says Mervine. Stride Ride, which makes shoes for children and adults, including Sperry Top-Sider and Levi's, is a "logical steal" for Tommy Hilfiger, a sportswear designer and maker, says Mervine.
Value investor Mark Boyar says there are several other companies that could be interested in acquiring Stride Rite, including Wolverine World Wide, a maker of casual and rugged footwear, and athletic shoemaker Reebok International. Boyar thinks the recent weakness in Stride Rite's stock provides another opportunity to buy shares. Analyst Margaret Mager of Goldman Sachs expects that Stride Rite will earn 60 cents a share in fiscal 1999, up from last year's 46 cents.
Before it's here, it's on the Bloomberg Terminal.
LEARN MORE