Coke And Pepsi Want To Make A Splash In Water
Will the soft drink giants leave smaller bottlers high and dry?
Dean Foust
First came the Cola Wars. Next, the Juice and Iced Tea Wars. Now, beverage giants Coke and Pepsi are about to fight another beverage battle: the Water Wars. And the market may never be the same.
The $4.3 billion bottled-water business has been divided among countless small regional players producing brands such as McKenzie Mist and Alaska Ice Age Premium. There are a handful of premium brands such as Evian and Perrier. But the biggest, Poland Spring, has only a 7.5% share. And with bottled-water consumption increasing 10% annually--triple the growth rate of the much larger but more mature soda business--it's a tempting market for both Coca-Cola Co. and PepsiCo Inc. Pepsi jumped in two years ago, and its Aquafina has become one of the top 10 brands.
Now Coke is taking the plunge. Dasani, which Coke plans to unveil on Feb. 19, isn't the product of some newly discovered spring but municipal tap water that is purified and distributed by Coke bottlers. Coke says it plans to tiptoe into water "to be careful that we don't replace high-margin soft drinks with low-margin water," as CEO M. Douglas Ivester has put it. But analysts nonetheless expect the Atlanta-based beverage giant's entry to cause seismic shifts in the U.S. water business. "Coke will be a big player--and fast," says Gary Hemphill, vice-president of Beverage Marketing Corp., a New York research firm.
Indeed, analysts predict that Coke's move will dramatically hasten the consolidation already occurring in the water business. Most vulnerable are Vermont Pure, Evian, Naya, and the dozens of bottled-water makers that are currently distributed by Coke's vast network of bottlers. Naya, for instance, depends on Coke distributors for 60% of its U.S. sales.
With the arrival of Dasani, however, industry insiders expect Coke bottlers to boot Naya off their trucks, just as Pepsi bottlers pushed out Avalon to make room for Aquafina. "Naya will need to find an alternative distributor, but the problem is there aren't any as strong as Coke's and Pepsi's--not even close," says John Sicher, publisher of the Beverage Digest newsletter. Naya spokeswoman Anita Jarjour says that if Coke bottlers do drop Naya, "we feel confident we can go to market through different methods. We have an extremely strong brand."
Also vulnerable are thousands of small regional players that can't match Coke's marketing tactics. Whispering Springs Inc., which only distributes its product within a 40-mile radius of its Pierceton (Ind.) headquarters, has already felt Coke's power, says company President Rebecca Kelly. A Coke bottler who was distributing another Indiana water offered retailers a free cooler to stock the product, and merchants expected Kelly to do the same. "We couldn't afford that, so it cost us a couple of accounts," she says. Kelly says she's now shifting more of her limited resources toward serving the office market--although she notes nervously the rumors that the local Coke bottler is eyeing that market as well.
IMAGE PROBLEM? Still, for all the soda giants' marketing muscle and distribution might, there's no guarantee that they'll be able to dominate the business. It's one thing to convince consumers that Coke's vaunted secret formula is unique, but it may have a harder time proving that its water is the real thing. And it could turn out that Coke's success as purveyor of soda could give it an image problem among consumers who buy water as a healthy alternative to the fizzy sweet stuff. "When you think of Coke, you don't think of water," notes Stephen Monaco, beverage buyer for Tedeschi/Lil Peach Food Stores, a Massachusetts-based chain of 136 stores.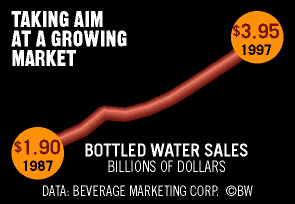 Monaco already has dropped Aquafina. The Pepsi product, which like Dasani is treated local water, did not outsell a half-dozen other brands he stocked. He offered to keep selling Aquafina if he could stock in the coolers the soda giant had provided. Pepsi demurred; it didn't want to sacrifice cola space for water.
For Coke and Pepsi, that's the dilemma: how to give water a place on the shelves and in the grocery bags without displacing soda sales. But they have managed that trick with teas and juices. And given the gusher of demand for water, Coke and Pepsi won't retreat from this battle.
Before it's here, it's on the Bloomberg Terminal.
LEARN MORE