Will Pentium Iii Revive The Pricey Pc?
Intel says its powerful new chip will make surfing more fun
by
Back in the salad days of 1996, Intel Corp.'s "technology treadmill" was so efficient. Every few months, the company rolled out a faster microprocessor, and PC users, eager for more speed, snapped them up in computers with average sticker prices of $2,000. For every Pentium, Intel pocketed over $200.
Those days are long gone. Models costing less than $1,000 now dominate the market (chart). Cheap PCs use processors that cost as little as $50, which can't produce Intel's customary profits. Worse, despite aggressive price cutting, Intel has only one-third of the market at the low end.
So Intel is determined to lure buyers back to pricier machines--with its new Pentium III chip. The first Pentium IIIs will cost between $500 and $700 and the PCs they go into, which are expected to hit the market in February, will cost around $2,000. On the strength of Pentium III and other high-end chips, analysts expect Intel's profits to climb 35% this year, to a record $8.2 billion.
But what could make consumers pay twice as much for a PC? The Pentium III not only is fast but also includes features to crunch a stream of video, audio, and 3-D graphics pouring in from the Internet. "We're looking to extend the Internet experience," says Jami K. Dover, Intel's vice-president of sales and marketing.
The chip giant has budgeted a massive $300 million to convince buyers that they need that "extended" experience. In addition to a new ad campaign, Intel is working feverishly to persuade Web companies to beef up their sites with multimedia content that requires the power of a Pentium III. PC makers that run ads on such sites will be reimbursed 75% of the cost by Intel, instead of the normal 50%.
Will the strategy work? Seamus McAteer, an analyst with Jupiter Communications, sees little payoff from seeding the Web with Pentium III sites. "Large, consumer-oriented sites won't optimize for the Pentium III for several years" because they want to reach the masses who use cheaper PCs. And analysts doubt Intel will turn the tide of cheap PCs. "It won't pull the mainstream up to higher priced systems," says Piper Jaffray analyst Ashok Kumar, who predicts that Pentium III PC prices will fall rapidly, to $1,500 or less.
Rival AMD may help that process along. On Feb. 22, it plans to unveil its Pentium III competitor, the K6-3. In the past, Intel has usually been months, even years, ahead of the clones at the top end, enabling it to keep prices high.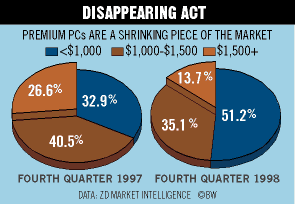 But AMD, just one-tenth Intel's size, can't match the giant's marketing blitz. On Feb. 1, billboards began appearing in New York, Los Angeles, and San Francisco showing a blue door marked "This Way In." Television and print ads rolling out in the next two weeks will explain that when the door opens, "the Internet's going to be a whole lot more fun." But all the promise of fun--indeed all the power of all the Pentium IIIs--may not make much difference to consumers whose biggest problem is waiting for pokey phone lines to deliver their data. Analysts figure it could take three more years before high-speed connections reach 10 million homes. Until then, a lot of the Pentium III PCs may be sitting around without much to do.
Before it's here, it's on the Bloomberg Terminal.
LEARN MORE