business
This Gumshoe Is Making Tracks
By
Money manager Audrey M.T. Jones isn't giving up on small caps--stocks with market caps of $10 million to $1.5 billion. "That's where the real values are in this market," says Jones, executive vice-president at investment bank Morgan Grenfell in New York.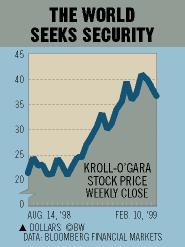 One small cap that she's betting on to become a big winner: Kroll-O'Gara (KROG), which provides security services, including investigative and intelligence work, voice and data security on computer systems and the Internet, and armored cars. "Kroll-O'Gara is definitely the leader in this fast-growing business," says Jones. Ram- paging demand for such services is reflected in the stock's fast climb, from 16 a share a year ago to 41 on Jan. 12.
Worldwide spending for protection has risen from $20 billion in 1980 to $55 billion last year, notes Jones. By 2000, she thinks spending will exceed $70 billion, 60% of that outside the U.S.
Jones says Kroll will post revenues of $340 million in 1999 and $400 million in 2000, up from 1998's estimated $250 million and 1997's $190 million. Jones expects earnings of $1.25 a share in 1999 and $1.70 next year. The stock, now at 37, should hit 50 this year, she adds.
Before it's here, it's on the Bloomberg Terminal.
LEARN MORE