South Korea: A Shaky Recovery Gets Under Way
Is South Korea on the mend? Recent signs are hopeful: Production, driven by exports and lower inventories, is recovering, and domestic demand is stabilizing. Most analysts believe that last year's economic slide bottomed out at yearend, and the International Monetary Fund has raised its 1999 growth forecast from barely positive to 2%. The economy plunged 5.5% in 1998.
However, the road to recovery will be rocky, mainly because of slow progress on economic reforms and because the footings under both foreign and domestic demand remain shaky. Exports are especially vulnerable to slower world growth this year, and export gains have been narrow, concentrated in semiconductors. Also, the won has strengthened 57% vs. the dollar since December, 1997, hurting competitiveness.
Interest-rate cuts and an easing of the credit crunch are helping domestic demand, but the slow pace of reform clouds the outlook. Companies are reducing debt, excess capacity, and labor costs, mainly through government-directed mergers. The resulting uncertainty and labor unrest are limiting growth in business and consumer spending.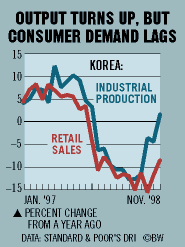 The best news is the improving balance of payments. Korea's current account is firmly in the black. The January trade surplus was $695 million, though imports jumped 15.4% from a year ago, while exports rose only 3.7%--all in semiconductors. Nevertheless, imports of capital goods surged 23.7%, suggesting renewed interest in business investment, helped by government pump-priming. Korea halved its external debt last year, and in January, foreign direct investment increased sevenfold from a year ago, reflecting Korea's return to an investment-grade credit rating.
The improved external position will support further easing in monetary policy, as soft domestic demand keeps a lid on inflation, projected by the IMF at 3% in 1999. Also, the government plans to spend most of what it has budgeted for 1999 projects in the first half, which should ease some of the negative effects of reform.
Before it's here, it's on the Bloomberg Terminal.
LEARN MORE