business
Hitachi: Turning Around Godzilla
Can its new president remake the troubled behemoth?
Irene M. Kunii
Hitachi: Turning Around Godzilla
Can its new president remake the troubled behemoth?
Irene M. Kunii
If Hitachi gets into deep trouble, they say in Japan's electronics industry, the rest of the country could follow suit. In early February, it looked as if that adage was about to be tested. Everyone knew that Hitachi Ltd. was having a bad year: The nation's largest electronics producer had already warned of a net deficit of $2.3 billion. But no one was prepared for what the markets now call the "Hitachi Shock"--a company forecast of a $3.3 billion net loss for the fiscal year ending on Mar. 31.
As only the latest measure of Japan's economic crisis, the disclosure was indeed a stunner. Even the mighty Hitachi--whose estimated $69 billion in revenues this year equaled nearly 2% of Japan's gross domestic product--is showing an annual loss for the first time since the early postwar years. "The double punch of the strong yen and deepening economic problems at home has hit us hard," says Yoshiki Yagi, Hitachi's senior managing director, "just as we were struggling to deal with huge losses."
A GOOD CRISIS? The refrain is echoing through the industry. Toshiba, Mitsubishi Electric, and NEC will be lucky to break even in the current fiscal year. Yet the crisis could prove salutary. Some producers, including Hitachi, already are confronting longstanding structural bottlenecks--bureaucratic management, bloated workforces, overcapacity, and far too many businesses. If the overhaul is thorough enough, it could provide a model for the kind of reinvigoration the rest of blue-chip Japan will have to face.
Hitachi's first restructuring moves account for more than half of its anticipated deficit. The company is taking write-offs of $1.6 billion. In the U.S., Hitachi has halted all chip production and merged two subsidiaries. At home, it has slashed investment in the semiconductor business and merged five assembly plants into three. Management has also eliminated more than 4,000 of the 70,000 jobs at headquarters. That still leaves an army of some 270,000 employees in Japan and 60,000 overseas, but more job cuts are expected.
Etsuhiko Shoyama, who takes over as president on Apr. 1, when Tsutomu Kanai shifts to chairman, has pledged further shakeups to improve profitability, and he's no stranger to the task. When Shoyama, now 62, took charge of the consumer products business in 1991, he shut down U.S. and German VCR production facilities and merged the consumer electronics sales subsidiary into the parent. In 1996, consumer products turned its first profit in five years.
Can Shoyama do the same for the group's 1,090 subsidiaries and affiliates, which range from Hitachi Metal to Hitachi Data Systems? In a reorganization to begin on Apr. 1, Shoyama plans to give 10 key divisions, including semiconductors, digital media, and information systems, the autonomy to set investment and employment policies. In software and services, which already account for $13 billion of revenue, Shoyama wants to use Hitachi's experience as a mainframe maker to provide information systems for large enterprises and offer services in such areas as electronic commerce, setting up networks, and running data centers.
The new structure will have its casualties, as Shoyama spins off excess operations within each division. He will also take aim at heavy-industry operations, which turn out everything from nuclear power plants to bullet trains. Some industry analysts say that because Hitachi is so overstretched, keeping all of these businesses alive could be a fatal drag on its high-tech aspirations. "Hitachi has great technology and manufacturing capability," says Masahiro Akutsu, a senior researcher at Mitsubishi Research Institute Inc., an independent think tank. "But if it continues to make heavy electric machinery, the future isn't very bright."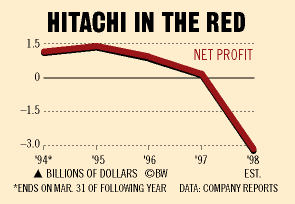 BIG SHIFT. To turn Hitachi around, Shoyama must root out a corporate mentality that values aggressive diversification and the pursuit of market share at the expense of profit. He will also have to do without the government contracts, cheap capital, and keiretsu-generated business upon which electronics makers long depended.
The question is whether Hitachi, along with the rest of the industry, can make such a fundamental shift in thinking. It has the resources and the technology to survive. If it redeploys them successfully, it could light the way for any number of Japan's other ailing giants. After all, as Hitachi goes, so goes Japan.