Cooper: Taking Off With Pirelli?
by
Shares of Cooper Tire & Rubber (CTB) aren't exactly burning up the road these days, but they may start to do so--and mighty soon. Whispers are that the fourth-largest U.S. tire maker has signed a strategic alliance with Italian tire leader Pirelli that, some pros say, could lead to a merger between the two companies sometime in the future.
It isn't clear whether Pirelli is buying an equity stake in Cooper, but it has agreed, according to one New York money manager, to designate Cooper the exclusive distributor of Pirelli tires in North America. Cooper, which so far supplies tires for just the replacement market, had been looking to become a "more global" company to achieve aggressive growth, according to this pro.
Cooper has been "exploring many options, including a merger, alliance, or joint venture," notes Saul Ludwig, managing director of McDonald Investments in Cleveland, who rates Cooper shares a strong buy. Cooper, which also makes other auto parts and rubber products, needs a "major brand" to complement its own, says Ludwig.
According to one tire executive, the alliance with Pirelli will add a "tier one" product to Cooper's tire portfolio. Tier one means premium tires that meet the stringent standards of the original-equipment market.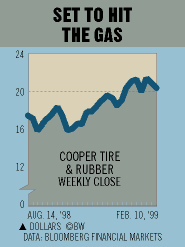 The name Pirelli, Europe's third-largest tire maker, should also enhance Cooper's brand awareness. And Pirelli gives Cooper the means to supply national and regional tire dealers with a complete line of original-equipment and replacement tires, for one-stop shopping, she adds. Cooper has strong dealer relationships Pirelli could use in the U.S., while Pirelli's technology would help Cooper in the premium-tire market, says this executive.
McDonald's Ludwig says three major customers that signed up with Cooper in late 1998 will add a further 3 million tires to its annual base of 40 million. And the company, he adds, has identified cost savings of $40 million that will show up in 1999 results. Ludwig figures Cooper will earn $1.75 a share in 1999 and at least $2 in 2000. He thinks the stock, now at 20, could hit 30 this year.
Before it's here, it's on the Bloomberg Terminal.
LEARN MORE