American Rock Is Getting Rolled
The giant Amsterdam Arena is packed. Tickets, going for as much as $35 apiece, are impossible to find. A Rolling Stones concert? Madonna? Not exactly. The 50,000 music lovers gathered here are listening to Italian diva Laura Pausini belt out the romantic strains of Un'emergenza d'amore. When she finishes her ballad about love so strong that it hurts, the audience jumps to its feet in an ovation--although almost no one has understood a word.
"She gives me tears in my eyes," exclaims Michel Smits, 16. "Italian is such a beautiful language," gushes Leila Modoni, 17, a Belgian who, accompanied by her mother, drove four hours to attend. "It wouldn't sound so nice in English," adds Emiel Keutzer, 17.
What's happening here is part of a revolution in the world's $40 billion-a-year music business--and a sign of drastic change in the industry. For years, Europeans idolized American entertainers. Once, foreign-speaking singers from Sweden's ABBA to Quebec's Celine Dion learned English in order to break into the big time. Now, audiences all the way from China to the Czech Republic cheer groups singing in almost any language. "American music is very, very beautiful, but Europe wants to hear new things," says Pausini, 24, in rolling, heavily accented English, as she waits in the wings to go on stage.
Music companies are promoting European artists, and European music sales, which now amount to $12.7 billion a year, have overtaken U.S. sales, which are now at $12 billion. The advent of a single European currency and the region's increasing political unity are partly responsible because they're breaking down once-rigid cultural boundaries. "People are traveling more," says Jonathan Morris, a vice-president at Sony Music Europe. So European audiences are more receptive to Flemish ballads, Finnish folk music, and Spanish love songs, along with South African jive and Jamaican reggae.
"When I started Warner Brothers in Germany in 1983, something like 90% of my [European] business was American repertoire," recalls Manfred Zumkeller, president of Warner Music Europe. Now, it has dropped to less than 40%. The hottest acts: Spain's Alejandro Sanz, the Netherlands' Ilse de Langer, Italy's Nek--and, of course, Pausini. All have gone platinum; that is, they have sold more than 1 million recordings.
GOING NATIVE. The big U.S. recording companies are jumping onto the bandwagon. Many performers, such as Sony Music's salsa singer Ricky Martin, from Puerto Rico, made it big in English but are returning to their native languages. Martin's A Medio Vivir and Vuelve albums went platinum last year in Europe, illustrating an interesting phenomenon: Like Pausini, many other performers are gaining great popularity in countries where few people are able to understand their languages. "He's drawing extraordinary numbers in Turkey and Norway," says Jonathan Morris, a vice-president at Sony Music Europe. Celine Dion's S'il Suffisait D'Aimer in her native French has sold more than 1.5 million copies since it was released last September.
English-language singers still draw crowds, of course. In Amsterdam, for instance, the Rolling Stones packed in huge audiences not too long before the recent Pausini concert. Still, a great deal of recent American music, from gangster rap to grunge to country, does not export well. "I can't sell an English-language rap singer in France," says Zumkeller.
Pausini herself is a good example of the changing tastes in music. Growing up in Solarola, a village of 2,000 in northern Italy, she loved the Beatles. So when, at the age of 8, she began accompanying her father, a bass player, at a local bar, she sang her favorite American pop songs. But "customers wanted to hear things in their own language," she says. Her first European hit, in 1993, was a sexy, smoky show-stopper, La Solitudine, which Pausini sang in Italian. She released an English version of it in 1995, but it didn't sell as well.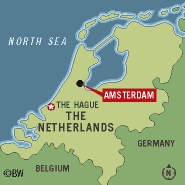 Of course, not everyone is willing to listen to musical arrangements that have foreign-language lyrics. Pausini records her songs in Spanish for audiences in Spain. And in the U.S., where Pausini dreams of making it big one day, folks insist on English. Her success in the U.S. is pretty much limited to Spanish-language recordings that sell to Hispanics in California, Florida, and Texas. To broaden her appeal in the U.S., she included Looking for an Angel, sung in English, on her latest album. Still, that doesn't guarantee success. Both Israeli artist Ofra Hazan and popular Chinese singer Wei Wei flopped when they switched from their native languages to English.
But maybe Pausini, dressed in a form-fitting Giorgio Armani gown with a plunging neckline, offers her audiences a little something extra. "She's certainly sexy," say Guido Manegraaf, 20, applauding his idol. That seems to be true in any language.