A Larger Than Life Vision For Imax
Can two ex-Drexelites turn the bit player into a star?
Joseph Weber
IN THE 3-D IMAX FLICK, T-Rex: Back to the Cretaceous, young Ally Hayden enters a world where everything is oversized and exciting, but soon disappears. The fictitious Hayden may have a lot in common with Bradley J. Wechsler and Richard L. Gelfond, the New York financiers who run the giant-screen movie company Imax Corp. The outfit has proved a potent growth machine for the ex-Drexel Burnham Lambert dealmakers over the past five years, but so far, they have failed to leave dinosaur-size tracks on the entertainment business.
The duo is aiming to change that. The Imax co-chiefs want to turn their $183 million niche business into a serious Hollywood player. Building on the growing business of leasing their projection equipment to theaters, they're ramping up their movie output, branching into animation, and drawing notice from established studios. On Feb. 9, they signed a deal with Walt Disney Co.'s Buena Vista Pictures unit to run Disney's new Fantasia 2000 in Imax theaters exclusively for the first four months of 2000.
INTO THE MAINSTREAM. So far, investors have largely applauded. Imax stock is up more than 235% since it began trading in 1994, even after sliding some 30% from unsustainable peaks in the past month. But to continue its drive, the suburban Toronto-based outfit must move further into the entertainment mainstream and away from the museum niche it has dominated for 32 years. That means filling the growing number of commercial Imax auditoriums with good movies.
This year could be key. Some 24 big-screen productions are expected in 1999, triple last year's output, says James Hyder of independent newsletter MaxImage! And Hollywood is taking a bigger part than ever before. T-Rex director Brett Leonard also directed middling mainstream releases The Lawnmower Man and Virtuosity, both of which had virtual-reality themes--and he plans to produce more in Imax 3-D. Inspiring the new productions is Everest, the mountain-expedition documentary that cost less than $10 million to make and has grossed more than $60 million since last March.
Imax wants to cut more deals with major studios. It would especially like to use its gimmicky but impressive 3-D technology, which requires audience members to wear special Imax headgear. The technology, which can convert a computer-generated cartoon such as Antz or A Bug's Life into 3-D, could give a new outlet to such animated hits. Because it is only partly computer-generated, the Fantasia remake will only run in 2-D--though it could lead to other 3-D deals with Disney.
But just as big names like Disney are coming around to Imax, others may be having second thoughts. Sony Corp. has turned out a couple giant-screen efforts but hasn't yet recouped its money on Wings of Courage, a 1995 3-D vehicle for Val Kilmer. Sony's next feature, due this year, is a 3-D film about Montreal-based performance artists Cirque du Soleil. Industry insiders say Sony may exit the business because it considers Imax films marginal, though Sony denies it's scaling back.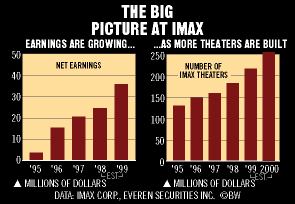 QUICK-HIT STYLE. The Imax format has obvious drawbacks, such as having to shoot with cameras the size of washing machines. And while animation works well in Imax, a conventional studio film in the format makes little sense: Big-name stars and advertising can balloon production costs to $50 million, from the average giant-screen cost of $5 million to $15 million. And successful Imax movies build popularity slowly on just a few screens, unlike Hollywood's quick-hit style.
Gelfond and Wechsler have taken considerable pride--and profit--in having snared the company for just $90 million in equity in 1994, with the backing of Wasserstein Perella & Co. That the financiers have yet to vault Imax beyond niche status probably explains why they haven't yet sold out. "The studios that are the most likely buyers need to see more data--box office kind of data," admits Gelfond. The possibility of a sale, more than any other factor, may be fueling Imax' still larger-than-life stock price.
Before it's here, it's on the Bloomberg Terminal.
LEARN MORE