business
A False Negative Reading At Cytyc
By
Cytyc (CYTC) thought it was putting out a favorable story on Jan. 29, when it announced it would bolster marketing funds for its flagship product--the ThinPrep Pap test to screen for cervical cancer. But some analysts thought the news spelled trouble: They pulled their buy rating on Cytyc. The stock tumbled from 23 1/2 to 17.
Enter investors scouting for bargains, inspired by other analysts bullish on Cytyc after the fall. And there is talk that the drop has attracted a major drug company to view Cytyc as an acquisition target. Indeed, by Feb. 10, the stock had jumped to 21, propelled in part by Smith-Kline Beecham's sale of its clinical lab to Quest Diagnostics, a proponent of ThinPrep. Cytyc can now gain access to certain new regions due to Smith-Kline's control in those markets. SmithKline was one of three major labs that hadn't adopted ThinPrep.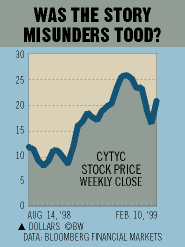 Although there are other Pap tests on the market, Cytyc's proprietary ThinPrep System improves diagnostic accuracy, according to Wade King of BancBoston Robertson Stephens in San Francisco, who issued a buy rating on Feb. 8. There are 500 labs in the U.S. that use the ThinPrep test, with 9,000 physicians providing them. Some 125 health plans, representing 100 million members, will cover this Pap test, according to Cytyc CEO Patrick Sullivan. In May, 1996, the Food & Drug Administration approved ThinPrep as a replacement for the conventional Pap smear, agreeing it was "significantly more effective."
On Feb. 10, Sandra Hollenhorst of Vector Securities raised her forecasts for Cytyc, based on its new "excellent strategy" of focusing marketing efforts in regions where insurers' reimbursement policies are favorable. She upped her 1999 estimate for earnings from 35 cents a share to 54 cents, and for revenues from $85.4 million to $88.7 million. Hollenhorst also increased her stock price target from 25 to 34. In 2000, she says, earnings will jump to $1.70 a share on sales of $150 million.
Before it's here, it's on the Bloomberg Terminal.
LEARN MORE