This Diskmaker Is Really Spinning
by
In mid-October, Image Entertainment (DISK) was languishing at 3 a share. But by early December, the stock had doubled to 6. It doubled again a month later. What's behind the surge? The largest distributor of laser disks, Image has become the top independent licensee and marketer of digital videodisks (DVDs). What's more, the company is now a major source of DVDs for some Net retailers.
"The company is poised to become a major player in DVDs and online retailing," says analyst Steven Hart of Commonwealth Associates, a New York investment firm, who rates the stock a "strong buy." It has the potential, he adds, of boosting revenues by more than 40% a year.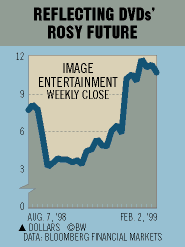 One relationship in the making, says a hedge fund manager who has been buying shares, is with Amazon.com. It's likely, says this pro, that Image will become a major DVD supplier to Amazon.com. Image is also talking with other Internet retailers of books and videotapes.
Image CEO Martin Greenwald expects there will be a big switch to DVDs by VCR users because of DVDs' superior audio and video quality. One other big plus: DVDs can also be played on personal computers through DVD-ROM drives, he adds.
Hart says Image's stock, which has eased to 10, has more upside potential, driven by revenue and earnings growth. He sees sales of $69 million for the year ending Mar. 31, 1999, and $97 million in fiscal 2000. And he sees earnings of 7 cents a share in 1999 and 35 cents in 2000.
Before it's here, it's on the Bloomberg Terminal.
LEARN MORE