Switzerland: A Dip In Exports Hobbles The Recovery
When world business leaders gathered in Davos to study the sorry state of regional economies, they did not have to look far to see the effects of weakness. Switzerland struggled throughout most of the 1990s. And now, just as its recovery finished a second year of small gains, a growing trade imbalance threatens the outlook.
The data at yearend contained some optimism for Switzerland. In December, unemployment was at a low 3.4%, from 5% a year earlier (chart), car sales surged 27.2%, and the Swiss purchasing managers' index increased for the third month in a row, only to fall sharply in January. Low interest rates and rising real wages had boosted domestic demand. So real gross domestic product likely grew 2% in 1998, after a 3.4% gain in 1997. By comparison, in the previous six years, Swiss GDP hardly grew at all.
But economists are marking down their 1999 forecasts, expecting Swiss real GDP to grow 1.5%, instead of 1.7%. The main drag is a worsening trade outlook. The trade deficit in December totaled 1 billion francs ($760 million), from a surplus of 475 million francs a year ago. Exports fell 4.1%, with sales to Japan off a large 15.7%. But rising domestic demand lifted imports by 2.6%.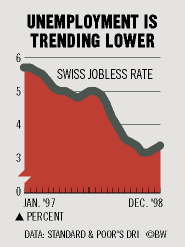 Switzerland did not join the euro zone, and its exporters are grappling with a stronger franc. After slipping 6% against the U.S. dollar in the first half, the franc soared from July to October as investors fled emerging-market currencies to safe havens like the dollar and franc. As a result, Swiss goods are less competitive in global markets, where demand was already drying up because of recessions. The franc has weakened a bit since October, in part because investors switched to the new euro.
The Swiss National Bank, which cut interest rates in 1998, has indicated that it will remain "flexible" on monetary policy. That means the central bank will trim rates further if the franc starts rising again--good news in a land where exports account for a huge 44% of the economy.
Before it's here, it's on the Bloomberg Terminal.
LEARN MORE