Heavier Loads For One P.O. Trucker
by
The Post Office--not the higher-priced Federal Express or UPS--could end up handling the bulk of the growing business of shipping out packages to those throngs of Internet shoppers. So argues Edward Wolfe, an analyst at BT Alex. Brown, who thinks this U.S. Postal Service (USPS) link with E-commerce is still unrecognized. How to play it? Through CNF Transportation (CNF), a diversified trucking and air-freight holding company that operates 10 of the USPS' Priority Mail Postal Centers.
Because of the low price of shipping with USPS' Priority Mail service, it stands to benefit most from delivering Internet purchases, according to Wolfe. Clearly, he adds, CNF, which holds the contract for Priority Mail, "has the closest ties to E-commerce."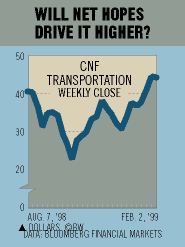 For example, the Priority Mail Processing Center in Swedesboro, N.J., handles some 70,000 packages a day shipped out by Amazon.com and home-shopping service QVC, notes CNF spokesman Jim Allen. Wolfe expects CNF to get contracts soon for five additional USPS centers. He expects the new ones--possibly in Atlanta, Chicago, Dallas, and Los Angeles--will add $500 million to $550 million to CNF's revenues by 2000, and will up per-share earnings by 15 cents or 20 cents. CNF stock, which zoomed from 22 in early October to 43 3/4 on Feb. 2, doesn't yet reflect such projections, says Wolfe.
Before it's here, it's on the Bloomberg Terminal.
LEARN MORE