Bated Breath In Toyland
Toymakers are praying for another Star Wars megahit
Kathleen Morris
As retailers flock to New York City this month for the annual International Toy Fair trade show, they'll need an official escort to see the biggest attraction. In a restricted area of the Hasbro Inc. showroom will be stacks of the first four-inch likenesses of young Anakin Skywalker and archvillain Darth Maul. They're part of the next generation of Star Wars toys, and never mind saving the galaxy. On the shoulders of this plastic army rests the fortunes of the toy industry in 1999.
Toymakers and toy sellers alike are betting big that the May release of Episode I: The Phantom Menace, the first movie in a new Star Wars trilogy, will unleash a consumer frenzy. Led by Hasbro, toymakers have paid record amounts for the right to produce action figures, building sets, and video games tied to the movie. Indeed, retailers are banking on them for Christmas. Analysts predict that sales of the licensed trinkets could exceed $1 billion this year and $6 billion over the next nine years as director George Lucas releases the sequels. "We believe--and this is not brain surgery--that this will be the biggest consumer-product opportunity of 1999," says Michael Tabakin, director of licensing for Toys `R' Us.
It had better be. The toy industry desperately needs a hit. Retail sales in 1998 were flat and the giants of the industry--Hasbro, Mattel, and Toys `R' Us--all saw earnings decline. But banking on a movie tie-in has risks. Last year, toys tied to Godzilla and Babe: Pig in the City flopped. Experts blame everything from supersophisticated kids outgrowing toys faster to a crammed release schedule that made it hard to build an audience. "The cold reality," says Sean P. McGowan, director of research at Gerard Klauer Mattison & Co., "is that for three years now, no new blockbusters have generated toy sales."
This latest Star Wars saga will have to show unprecedented staying power for its licensees to make a killing. Hasbro alone has pledged an estimated $750 million for the right to make action figures and vehicles based on the new movies. To cover its up-front guarantees, analysts figure it has to sell $3 billion in Star Wars toys over the next 10 years. Hasbro officials won't discuss the outlook, but analysts agree profits could be limited. "I'm a skeptic," says Margaret B. Whitfield, analyst at Tucker Anthony. "It will be a great success in 1999, but then we'll have to wait two more years for the next movie."
ALL-TIME CHAMP. Still, toy execs figure if any movie franchise can do it, Star Wars can. The original trilogy has raked in a record $4.5 billion in merchandise sales over its 20-year history, far ahead of second-ranked The Lion King at $1.5 billion.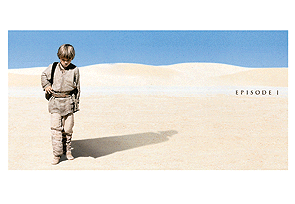 And Lucas has masterfully stoked his fans' hunger for more Star Wars. Two years ago, he re-released the first three movies, souped up with enhanced digital imagery. Meanwhile, Hasbro and Galoob Toys reissued the full line of action figures, selling $425 million worth of toys based on the 20-year-old characters. Films that carried the Episode I trailer this fall saw a 25% spike in box-office sales. Intimidated, other studios are holding back most other kid films until later this year or even 2000. "It is going to blow the roof off," exclaims Peter Eio, president of Lego Systems Inc., which is making Star Wars building sets. That is, if the Force is still with these intergalactic playthings.
Before it's here, it's on the Bloomberg Terminal.
LEARN MORE