This Coin Handler Is On A Roll
By
Cash Technologies (CHNG), which makes machines that deal with loose coins, is getting to be worth a pretty penny: From 5 1/2 in mid-October, the shares have nearly doubled, to 10 7/16. What's driving up the price?
The coming of the euro has produced a big potential market for Cash Technologies' unusual coin-processing machines, says analyst Casey Stern of Starr Securities in New York. About 70 billion coins will have to be redeemed in Europe when the new currency circulates in July, 2002, he notes, so demand for Cash Tech's self-service CoinBank deposit machines should surge. The company has reached an agreement with Bank Austria to install its machines on a trial basis. Since the machines are software-driven, they allow any type of coins to be programmed for acceptance now and converted for euro coins later.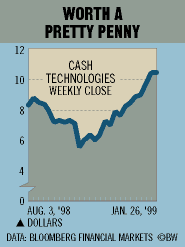 The machine sorts and counts coins and then dispenses either a credit through an automated teller machine or a receipt redeemable in cash. Cash Tech gets a 7% consumer fee, which it splits with the bank or store where the machine is installed.
The difference between CoinBank and the machine of rival Coinstar, says Stern, is that CoinBank provides other uses too, including credit-card transactions, payment of bills, and dispensing prepaid phone cards. He puts Cash Tech revenues at $60 million to $70 million in 1999 and $110 million to $150 million in 2000. Cash Tech will lose money this year, but he expects it will earn 50 cents to $1 a share in 2000. His 12-month target for the stock: 20.