Spain: Lofty Plans For Job Growth
By
Prime Minister Jose Maria Aznar thinks Spain can "conquer the problem of unemployment" in four years. True, unemployment is down, but the jobless rate is 18.2%, the euro zone's highest--and with the labor market's inherent instability, the goal is optimistic. But for this year and next, at least some further improvement is on the way.
Joblessness has fallen from 22% in the past two years, when economic growth was about 3.6%, and economists believe that the measured rate is overstated. Moreover, growth in the fourth-largest euro zone economy is set to match that pace in 1999, besting the rate for the overall region again. Growth will be driven by domestic demand, especially consumer spending and construction, two areas where recent surveys show soaring confidence. Brazil's devaluation has hit Spain's telecom and bank stocks, and the country sends 7% of its exports to Latin America. However, strong demand at home will overwhelm the global slowdown forces.
Low interest rates and an income-tax cut are driving consumers. Euro zone interest-rate convergence has cut Spanish rates by three percentage points in two years. November retail sales rose 7% from a year ago; December car registrations soared 23%. Despite rapid growth, 1998 inflation was 1.4%, a 30-year low, and is expected to stay down, lifting workers' real wages.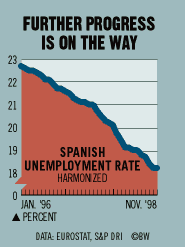 The chief labor-market problem is the short-term nature of most employment, which is tied to the service sector, especially tourism, Spain's largest industry. In addition to 1997 labor reforms that lengthened some job contracts, the government on Jan. 14 eased the social security burden on employers who create more permanent jobs. The highest cost savings go to those who hire women and workers older than 45. After generating 450,000 new jobs in 1998, the government vows 350,000 jobs per year through 2002, which would cut the jobless rate to an average of 12.8% in 2000 to 2002. But it will take continued robust economic growth to hit that goal.