Safeguard's Hoard Of Ip Os
by
Safeguard Scientifics (SFE) has little to do with safety or science: It is a venture-capital company that acquires stakes in young info-tech outfits. After funding and managing their development, Safeguard takes them public. "Safeguard is a way to participate in the venture-capital business and benefit from the huge returns," says Stuart Rudick of Rudick Asset Management in Mill Valley, Calif. Currently trading at 37, the stock is worth 55, says Rudick, based on the value of its portfolio.
Sherri Wolf, an analyst at Adams, Harkness & Hill in Boston thinks the value of Safeguard's portfolio of private companies has yet to be recognized. To determine Safeguard's value, investors will need to assess both its public and private holdings, she argues.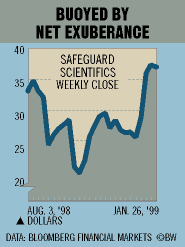 "We have identified three [initial public offering] prospects that could greatly enhance Safeguard's bottom line," says Wolf. They are on deck to go public this year "in hot markets, such as business-to-business Internet commerce," she says. One of them is Internet Capital Group, which already owns 15 Internet companies, including 50% of VerticalNet. This company has filed for an IPO later this year.
Internet Capital, also scheduled to go public this year, has attracted high-powered investors GE Capital and Comcast, which have put in seed money. "Internet Capital will have the largest impact [as an IPO] if exuberance about the Net continues," says Wolf. "1999 will be a great year for Safeguard."
Before it's here, it's on the Bloomberg Terminal.
LEARN MORE