business
Microsoft Dumped Inktomi. So What?
By
Internet software provider Inktomi (INKT) is not a stock for the faint of heart: In the past five months, it has often jumped or dropped 10 to 15 points in a day--on little provocation. After hitting a high of 178 on Jan. 11, it slid to 148 on Jan. 25. The next day, Microsoft announced that it was phasing out Inktomi's Internet search service as the primary platform for Microsoft's Web network. Inktomi's stock fell almost 20 points, to 129. Is it downhill from here?
No way, say some pros. Although a lot of momentum players bailed out, not a few Inktomi fans bought shares as the price sank. "It wasn't a major setback--just a speed bump," insists John Leo, who heads Northern Technology Fund, a unit of Northern Trust. "We view the big drop as a terrific buying opportunity, so we're adding to our position."
Analysts Rakesh Sood and Michael Parekh at Goldman Sachs stood pat, reiterating their positive "market outperform" rating on Inktomi. Leo notes that Microsoft's move to replace Inktomi's search technology with that of AltaVista, a Web-search and navigation site of Compaq Computer, reflects the business relationship that Microsoft is continuing to build with Compaq--Microsoft's largest customer. "It's not indicative of any concern about Inktomi's technology," he adds.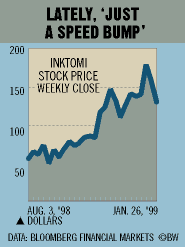 Microsoft makes up less than 5% of Inktomi's revenues, says Leo, and he's sure Inktomi can recoup the loss through new customers. He notes that Inktomi provides its search technology to 18 big companies, including Yahoo!, America Online, and Lycos.
Apart from its search technology, Inktomi also has a "traffic server" product that stores data close to where it is needed by Internet users. Inktomi has a new product that will provide "comparison shopping," to compare prices and information on various products online.
Last year, Inktomi's sales quadrupled, to $20.4 million, and Leo expects them to continue growing--to $60 million in 1999 and $110 million to $125 million in 2000. Still in the red, Inktomi should break even by 2000, he figures.
Before it's here, it's on the Bloomberg Terminal.
LEARN MORE