Gm Dealers Aren't Buying It
Their parent wants them to focuS on image, not price
By
Chevrolet dealer Gordon Stewart Admits his advertising is not always pretty. But shouting about low prices "sells the iron," says Stewart, owner of three stores in Florida and Michigan. Stewart says it was "like a bombshell" when General Motors Corp. grabbed back $500 million set aside for dealers to produce local ads: "It has infuriated dealers across the country."
In Chicago, more than 60 dealers hired former Transportation Secretary Samuel K. Skinner and took GM to court on Jan. 26. Others may follow suit. "It's like fighting your parents," says William Napleton, a Park Ridge (Ill.) Cadillac dealer. "We don't mean to be disloyal, but we have to stand up for our rights."
GM is standing up for a principle, too. It's trying to make dealers go along with a brand-management strategy that, according to GM, is key to restoring the company's flagging market share. GM began the controversial marketing approach that stresses image over price in 1994. Its champion was, and continues to be, Ronald L. Zarrella, then vice-president for marketing, now North American auto chief.
"OFF-THE-WALL." But many GM dealers have never signed on. "The reality is that this is a price-driven market," says Merrill Lynch & Co. auto analyst Nicholas Lobaccaro. And even as it tried to build up the value of its brands, GM has matched its rivals with rebates when sales needed a boost.
In December, GM decided it was time to force dealers to get with the program. It announced that on Apr. 1, the home office plans to take over local advertising--and stop those ads screaming about low prices. "We are taking more control to get a more consistent message," explains John Middlebrook, GM's vice-president for vehicle brand marketing. Local ads will now be "tied into the national campaign, rather than something off-the-wall."
SILVER BULLET? It's a risky move. Just when the company has finally convinced investors that it's recovering from last year's strike and may be able to regain market share, it needs dealers on its side. And there's scant evidence that the brand-management plan--no matter how hard GM tries--will be a silver bullet. Since 1994, GM's U.S. market share has sunk from 33.2% to 29.2%, even as it became America's biggest spender on marketing with an annual ad budget of $2.2 billion. Says auto analyst Scott Merlis of Wasserstein Perella Securities: "It's a noble cause, but it's a tough battle."
Ford Motor Co. is already staging a retreat. Ford jumped on the brand-management bandwagon shortly after GM. But now Ford's new CEO, Jacques A. Nasser, dismisses the Procter & Gamble-style approach as inappropriate for Detroit. "That formula won't work," says Nasser. "Cars and trucks are very different from consumer products like toothpaste." Ford has boosted brands like Lincoln and Jaguar with hot new models, but without ballooning its $1 billion ad budget.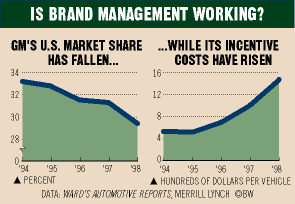 GM, however, is "absolutely not" going to throttle back on brand management, says Middlebrook. In fact, he predicts the payoff is just around the corner. Indeed, Zarrella instructed GM's marketing department in November to aim for a 32% market share in the U.S. by the end of 1999. "The final measure is market share, and we think that will begin to happen now," says Middlebrook. "It takes time to build brand equity."
Low, low prices are what bring in the buyers, dealers insist. And the dealers say no one knows how to pitch on price like they do. "In six months, they'll be back to us saying: `We can't move the metal,"' predicts Napleton. But unless GM makes peace with its dealers, its ambitious market goals are headed for the ditch.