Argentina: Heading For A Fall
By
Government officials in Buenos Aires are manning the peso barricade, and they seem willing to surrender economic growth in the battle. After Brazil devalued the real, wary investors put nearby Argentina under scrutiny. Interest rates soared, and peso futures plunged as some investors bet Argentina would have to follow its northern neighbor and devalue.
In response, the government of President Carlos S. Menem made it clear that the peso would remain pegged to the U.S. dollar, as it has been since 1991 when he launched the convertibility plan to fight inflation and economic stagnation. The program has worked well--inflation in 1998 was under 1% for the third year in a row.
However, the Brazil problem may be the plan's biggest challenge. Argentina holds more than enough foreign reserves--$27.5 billion--to back the peso. And the government's finances are set until June, so there is less need for outside funds.
Still, with Brazil buying about a third of Argentina's exports and with interest rates soaring as investors pull money out of emerging markets, Argentina's economy will likely take a fall.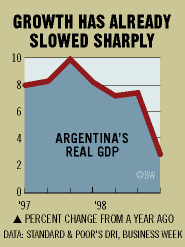 The Economy Ministry is sticking with its 1999 forecast of 2.5% to 3% growth in real gross domestic product, but Minister Roque Fernandez admitted that GDP could fall as much as 1%. Output was already easing in the second half of 1998 because of global turmoil (chart). And private economists have cut their 1999 projections to show a GDP decline between 1% and 2%.
A flat economy means that rising unemployment will likely be a campaign issue when presidential elections are held in October. The jobless rate in the fourth quarter was down to 12.4%, after rising as high as 18.4% in 1995, but the rate is expected to head much higher this year. Already, Ford Motor Co. has announced the dismissal of 1,400 workers in Argentina because of the poor sales outlook. Unfortunately, such news reports are likely to become routine in 1999.