business
A Proud Team Gets A Helping Hand...And Young Players Get Their Chance
This sure isn't the big leagues. The Royal Antwerp Football Club, founded in 1880, long was one of Belgium's strongest teams, reaching the European Cup Finals six years ago. Now, a mere 5,000 fans have turned out to watch a match against the team from the tiny Belgian town of Geel. Much of Antwerp's 25,000-seat stadium is crumbling. The club's annual budget is $4 million--a fraction of the $100 million a top squad might spend in Britain, Spain, or Italy. On the field, the visitors take an early 1-0 lead.
But struggling Antwerp is on the cutting edge of a momentous transformation of European football. This past November, Britain's powerhouse Manchester United signed an agreement with the club to begin training young players in Belgium. Antwerp, in effect, has become Manchester's minor-league franchise, receiving a cheap supply of promising players.
The move is part of football's inexorable commercialization, with a few big clubs getting ever richer and more powerful, while small teams stumble. Since the Manchester-Antwerp tie-up, scores of others have been rumored. Amsterdam's Ajax has bought 51% of a South African team in Capetown and is negotiating with Belgium's Germinal Ekeren. Other possible deals include Italy's Lazio with Standard Liege, and France's Marseilles with Charleroi. "European football soon will resemble the NBA, with 20 strong teams, and no Belgian team can afford to stay in the majors," says Paul Bistiaux, Royal Antwerp's secretary general.
BIG BUCKS. Simple economics accounts for the trend. Manchester sells out its 56,000-seat stadium for every match and last year got $39 million more out of merchandising club paraphernalia and $27 million for TV rights. "Manchester can afford to pay one player our entire year's budget," says Eddy Wouters, Royal Antwerp's chairman and a former player.
To stay on top, though, Manchester needs to train the best players, and that's where Royal Antwerp provides a service. Before the deal, Manchester hopefuls played on a reserve team that faced little competition. "We can give their prospects game experience," explains Antwerp coach Regi Van Acker.
Not surprisingly, traditionalists are horrified. Because the Union of European Football Assns. forbids dual ownership, the two clubs have avoided any equity participation. But here in Belgium, some fear losing their local roots. "Almost no Belgians play for Antwerp," complains Gilbert De Groote, a scout watching the match against Geel. In fact, there are four, along with three Englishmen, two Hungarians, a German, a Serb, a Slovak, a Nigerian, a Brazilian, and a Frenchman.
But Royal Antwerp's managers and most fans believe the Manchester deal is the only way to avoid both athletic and financial bankruptcy. Chairman Wouters has floated the idea of merchandising Manchester apparel in Belgium. "We can learn a lot about the business of football from them," he says. And on the field, the transferred players have improved the quality of play. "Manchester plays the most exciting offensive football in the world, and we want to see the same," says Eric Couwels, 39, a regular at Antwerp games since he was nine years old.
Daniel Higginbotham is one of the three young Manchester United hopefuls playing this season in Antwerp. In his first game, the 20-year-old left fullback brought down an attacker near the goal and was called for a penalty shot. Antwerp lost, 1-0. "It was my first time playing out of Britain, and everything was different--the language, the food, and the playing style," he recalls.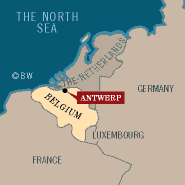 But Higginbotham has learned fast. Antwerp has gone unbeaten in its last 10 games, and the English defenseman has scored two goals. Fans have started cheering: "Botty, Botty." "It's their way of saying hello," says a smiling Higginbotham. Although Manchester pays his salary, Higginbotham also is happy because he gets generous bonuses from Antwerp for each win.
After giving up the early goal against Geel, Antwerp fights back. The score goes to 2-2. Near the end, another Manchester transfer, Jaimie Wood, hits a header off the goalpost. "We should have won," Higginbotham says after the game. Even with Manchester's help, Antwerp has a lot of work ahead, both on and off the field.
Before it's here, it's on the Bloomberg Terminal.
LEARN MORE