Ziff Davis Is Printing In Red Ink
Despite Web-site hoopla, the cyber-biz publisher is hurting
Larry Light
As the nation's leading media company dedicated to matters cybernetic, Ziff-Davis Inc. understandably caught the attention of investors when it launched an initial stock offering last April. After all, Ziff's 26 computer magazines, including heavyweights PC Magazine and Computer Shopper, lead the tech-magazine industry in ad revenues. The company has a tech-oriented television channel and dominates computer trade shows with 50 events a year, notably the fall Comdex extravaganza in Las Vegas. Still, by October, Ziff's stock price had seriously slumped, from the IPO price of 15 1/2 to less than 4.
The problem was that for all its connections to the fast-growing industry, Ziff itself was in a slump. But it turns out the New York company has a safety net: the Internet, Wall Street's darling. In December, word that Ziff planned to offer stock in its popular ZDNet Web site lit a fire under Ziff's shares. They soared 80% over three days, to 20 3/4.
But the Internet halo effect is only obscuring Ziff's weak financial picture. Publishing still contributes two-thirds of Ziff's revenues--and there, it's gushing red ink. Moreover, the company took on a crushing debt load under its Japan-based parent, Softbank Corp., yet it's paying cash to buy subsidiary ZDTV from Softbank. And despite its wobbly performance, Ziff has shown a penchant for showering goodies on insiders.
SWEET DEAL. Case in point: In September, with its stock swooning, Ziff slashed the exercise price for its executives to purchase stock options, from 16 to 6. Moreover, the favor was extended to five of nine directors--four company execs and one official at Softbank. Questions about Ziff and Softbank's financial dealings exacerbated the share slide that followed the IPO. Says Charles Mehlhouse, a portfolio manager with Fortis Advisers Inc., which dumped 160,000 shares last summer: "We didn't like how they were doing things at all."
Why does Ziff appear to be in such sorry financial shape? For one thing, advertising in its computer magazines is off since 1997. Falling retail prices for PCs have hurt small manufacturers and curtailed their ad outlays. In 1998, Ziff's ad revenue was down 7.6%, to $653 million, says Adscope Inc.
BIG DEBT. That doesn't explain why Ziff has run four years of red ink while chief competitor CMP Media Inc. remains profitable--even though CMP's titles have endured their own ad falloff. The difference? Ziff has to service an onerous $1.5 billion debt load. The borrowing spree started with the company's 1994 purchase by Forstmann Little & Co. from the Ziff family. It intensified with the 1996 sale to Softbank, which now owns 72% of Ziff.
The result: Ziff is barely covering its debt service. Add in hefty charges for Ziff's rich acquisition premiums, and the result is a 1998 loss of $78 million, according to estimates by Merrill Lynch & Co. analyst Lauren Rich Fine. That's 10% worse than 1997's showing, on slightly lower revenues of $1.1 billion.
Given Ziff's problems, some analysts are troubled that it is paying cash to buy assets from Softbank's CEO and controlling shareholder, Masayoshi Son. Ziff ponied up $370 million about a year ago to buy ZDNet and other operations from Son's finance vehicle, MAC Corp. And now, Ziff is in the process of paying $85 million to MAC for ZDTV. Ziff's rationale is that this will allow closer integration of its various tech-media properties.
It's easy to understand why Son needs the money. Dogged by Asia's economic distress, software distributor Softbank suffered a $22 million loss in the six months ended last September. Though Softbank is sitting on unrealized gains from some hot investments--including an early stake in Yahoo!--that doesn't help its cash position. Son was not available to comment, but Ziff CEO Eric Hippeau defends Softbank's dealings. He notes that early last year, Son lightened Ziff's burden by forgiving $900 million of Ziff's debt. "That was a big help," says Hippeau.
No doubt. But at the same time, Ziff borrowed $1.5 billion from other lenders to repay the remainder of its debt to Softbank, effectively shifting Ziff's debt to bondholders and banks. Those outside creditors were much less forgiving, as Ziff found out last fall when its lagging finances violated cash-flow covenants. To satisfy banks, Ziff now pays a higher interest rate. Ziff's chief financial officer, Timothy O'Brien, acknowledges that Softbank's loan had no such covenants. Says one portfolio manager who sold his Ziff stock last fall: "Softbank took care of itself at Ziff-Davis' expense." Moreover, Softbank's stake in Ziff is now worth more than $1 billion.
Investors, troubled by the financial machinations and mounting losses, dumped Ziff shares through the spring and summer. Four separate class actions were filed, alleging that Ziff execs must have known before the IPO how poor the ad outlook was for the remainder of 1998. The company won't comment on the litigation, but the risks of possible ad softness were mentioned in its offering prospectus. The stock slide halted only after Ziff announced in October it would cut costs by trimming 10% of its 3,800 employees and closing three magazines.
OFF-TRACK. What really got the stock moving in December was news of the ZDNet stock sale. The deal is expected to raise $114 million in March through the sale of a tracking stock that is supposed to mirror only Ziff's Internet operations. ZDNet furnishes just 2% of Ziff's revenues and is losing money. But investors think the popular site--which contains software, computer-buying help, and other tech information--has big potential to draw Web advertising. And ZDNet's losses are narrowing, to $7.6 million in the first nine months of 1998. The site also has a growing audience. Its page views in October were up 76% from a year earlier.
But the real problem with the ZDNet offering is where the $114 million is headed--into Ziff's general coffers, to pay down debt, not directly into the sexy Internet business. Robert Willens, Lehman Brothers Inc.'s corporate-finance expert, says tracking-stock proceeds almost always are restricted to the activity for which they're raised. "This is damn odd for Ziff to do," says Daniel E. King, an analyst at LaSalle St. Securities Inc., a Chicago brokerage with a strong tech focus. Hippeau defends the move, vowing that Ziff management will ensure ZDNet gets the capital it needs.
PROFIT OPTION. Meanwhile, management has protected itself. When the stock dipped into the low single digits last fall, board members voted to reprice options for 800 Ziff managers and prized employees. The repriced options, which they can begin to exercise in March, affect CEO Hippeau, three other Ziff execs who are directors, and Ronald D. Fisher, head of Softbank's U.S. operations. At the current price of 18, Hippeau's gain on his 1.1 million options is already worth $13.2 million, $11 million more than it would have been without the repricing. In addition, Son and his finance chief, Yoshitaka Kitao, have been given the right to receive additional options at 6, says Ziff CFO O'Brien, although they have so far elected not to take them. Exempted are two independent directors.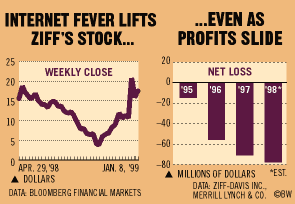 Hippeau and independent director Jonathan Lazarus, a former Microsoft executive, defend the repricing as vital to keep talent from jumping ship. But by extending the benefit to some directors, Ziff broke disturbing new ground, says compensation expert Graef Crystal: "For a board, there's real potential for conflict of interest here."
Hippeau insists Ziff's current difficulties will pass. Once computer prices stabilize and advertisers return from the sidelines, he says, publishing will rebound. Plus, he's counting on forays into the Internet and TV to push Ziff's growth. Trouble is, that won't happen overnight. And Hippeau concedes magazine ad pros-pects for 1999 remain lousy. All of the excitement over a Web site can't hide the fact that Ziff's shiny model of cyber-prosperity is wavering on the screen.
Before it's here, it's on the Bloomberg Terminal.
LEARN MORE