Will Web Biggies Spy Spiegel?
by
Although it has been an Internet player for more than three years, Spiegel (SPGLA), a retailer of clothes and home furnishings, was discovered by certain cyber-investors only in December. Its class-A stock jumped from 3 1/2 in early December to 7 3/16 on Jan. 13. And Spiegel still has a ways to climb, says a strategist for one New York investment bank. The stock could double again. Such a runup is based not only on improving fundamentals, he says. Spiegel is also whispered to be a takeover target: It could be worth 20, according to this pro.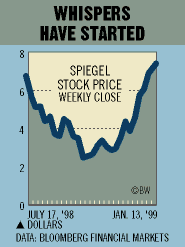 "If a large Internet marketer needs to increase distribution rapidly, Spiegel could make an excellent acquisition," says one California investment manager. Spiegel also owns a bank that issues credit cards--another plus, he adds. With the sky-high price of many Net stocks, he points out, Spiegel could be a cheap buy for an outfit such as Amazon.com.
While Net sales account for a modest percentage of the total, such sales tripled during the recent holiday season. Investment manager Mark Boyar believes Internet sales could hit $300 million, or 10% of the total, in a year. Spiegel posted total sales of $2.6 billion for the year ended Jan. 2, 1999. The company, however, remains in the red.
Spiegel markets its products through mail-order catalogs, four Web sites, and more than 550 retail stores. Spiegel Catalog and its Eddie Bauer unit also offer merchandise on America Online's shopping channel.
Before it's here, it's on the Bloomberg Terminal.
LEARN MORE