Robust Growth Is In Cerus' Blood
by
No, Cerus (CERS) isn't an Internet stock. But it has nearly doubled in just three months--from 11 1/4 a share on Oct. 9 to 21 on Jan. 12. On Jan. 13, Morgan Stanley Dean Witter put the stock on its "strong buy" list, pushing the stock to 24 9/16. And it looks poised to head even higher, argue some pros. Certain big investors have discovered Cerus, which addresses a tremendous global problem: blood contamination. Cerus is a pioneer in developing viral "inactivation" systems that act to decontaminate blood components and to improve the safety of transfusions.
Baxter International, a global leader in technologies associated with the circulatory system, has acquired a 17% stake in Cerus and has signed a strategic pact to develop and market its plasma-inactivation processes. And the Consortium of Plasma Science, made up of key players in the industry--including Bayer, Alpha Therapeutic, and Baxter--has also agreed to fund Cerus' development of methods to inactivate pathogens in plasma.
The consortium will provide $2 million in the first year and then fund development through regulatory approval. "The clinical data have been compelling," says Katherine Martinelli, an analyst at SG Cowen Securities in Boston. The Food & Drug Administration has given approval for Phase III clinical trials on the inactivation system for platelets, which Martinelli expects will get under way in the first quarter. Similar tests are being done in Europe.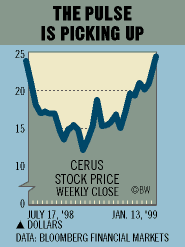 With some 60 million transfusions worldwide every year, the potential for Cerus' technology is enormous, says Martinelli. "We look for Cerus to receive approval overseas for its platelet system in late 2000, and in the U.S. by 2001," she adds. So revenues should ramp up in 2001, and Cerus should be in the black by 2002, she says.
Analyst Kevin Tang of BT Alex. Brown notes that the technology has been shown in a number of clinical studies to be effective at inactivating pathogens without adversely affecting plasma or platelets. He estimates the market for Cerus' systems at about $2 billion. Tang figures Cerus will earn $2.41 a share in 2002 and $6.56 in 2003, based on revenues of $112 million and $238 million, respectively.
Before it's here, it's on the Bloomberg Terminal.
LEARN MORE