Net Stocks: A Slight Case Of Vertigo
Edward C. Baig
For a fleeting moment, it seemed that the Internet bubble had finally burst. In the first week of January, Internet shares had once again astounded investors with massive gains--pushing the Hambrecht & Quist Internet Index up 100 points to a record 378.83. That's triple the level of the index just three months earlier. But on Jan. 12, Broadcast.com plunged more than 62 points and closed at 223. Ebay was battered down 51 points to 240 1/2. Yahoo!, Lycos, and Amazon.com were also among the victims.
Still, as short sellers have learned the hard way, it's a sucker bet to try to predict when the Internet bubble will burst. The slide resumed on Jan. 13. Even Yahoo!'s surprisingly strong earnings of $18.5 million for the fourth quarter and two-for-one stock split didn't stop its shares from declining further. Still, the dip left the H&Q index at 337.65, 11% off its high--and prompted more questions from Wall Street pros. "Whether this is the final top, I don't know," says Peter J. Canelo, U.S. investment strategist at Morgan Stanley Dean Witter. "But if you have a historical perspective, you'll appreciate how much risk there really is." Canelo advises investors who have made money on these stocks to "take their chips off the table and let someone else take the doubles."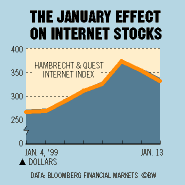 That doesn't mean investors should shy away from all Internet stocks. Paul Cook, lead portfolio manager at the Munder NetNet Fund, says what may happen in Internet stocks is "a flight to quality." Experts say newer issues and companies that don't have a particular corner of cyberspace nailed down are especially vulnerable. Top-tier companies such as America Online and Amazon, Cook figures, will resume their ascent. And that makes them too pricey. Cook recently trimmed his Amazon holdings from 3% of the portfolio to 1%, "because right now it's extended."
Are there Internet stocks that could become bargains? In the short term, that doesn't look likely. But "there's a chance we might find some a year out," says David N. Dreman, chairman and chief investment officer of Dreman Value Management LLC. By then, the Internet bubble could be just a memory.
Before it's here, it's on the Bloomberg Terminal.
LEARN MORE