Commentary: Hm Os: When An Ounce Of Prevention Costs Too Much
Keith H. Hammonds
Want to know why health premiums are heading up? In 1997, Kaiser Permanente spent about $500,000 on anti-psychotic medications for its HMO members. Last year, with the arrival of Eli Lilly & Co.'s more effective Zyprexa, the tab soared to $8 million. Xalatan, a hot new glaucoma medication, generated bills of $7 million for Kaiser in 1998--up from $400,000 for the drugs it replaced. "This is not sustainable," says David Campen, head of Kaiser's California drug formulary board.
It surely isn't--not for health insurers with chronically droopy profits, and not for society. Drugmakers are churning out a flood of expensive products and advertising them heavily. Patients want the new treatments, and their doctors are obliging. Pharmaceutical claims soared by up to 18% in 1998, says Merrill Lynch & Co. analyst Roberta Walter; in many plans, drugs account for 15% of total medical costs, up from 10% five years ago.
That's why HMOs are less than thrilled to see more pricey new treatments, such as Monsanto Co.'s Celebrex. It's the first so-called Cox-2 inhibitor for arthritis pain to win Food & Drug Administration approval. Although early trials are inconclusive, Celebrex and similar drugs are said to reduce the risk of ulcers compared with drugs such as aspirin. The catch: They cost up to 50 times more.
Are the new drugs worth the price? Ulcers are painful, surely, and sometimes lethal. Moreover, they can be expensive to treat: Monsanto estimates that for arthritis patients who get ulcers, insurers spend another $2.30 for every dollar they spent on painkillers.
Yet only 6% or so of arthritis patients ever suffer gastric bleeding. So Aetna, United HealthCare, and Wellpoint Health Networks have said that, for now, they either will restrict reimbursement for Celebrex to patients who actually get ulcers with other drugs or, in some plans, charge patients who choose it the highest copayment allowable. Kaiser says it is encouraging physicians to prescribe Celebrex narrowly.
The situation is a curious bit of backsliding; HMOs and drugmakers actually have common interests. Health insurers generally want doctors to prescribe more drugs, in hopes of deferring much higher expenses for surgery and other costly treatments. Celebrex fits the bill, stopping ulcers before they happen. And more prescriptions would help drugmakers cover the huge research costs that go into new products.
But first, the health industry must correct the skewed incentives that kindled outlandish drug-cost inflation. Under traditional insurance, most patients paid a large chunk of the list prices for prescription drugs. The advent of HMOs, however, brought popular pharmacy plans that allowed patients to pay just $5 or $10 per prescription, whatever the ultimate cost.
Overnight, consumers became price-indifferent--and their demand encouraged doctors to overprescribe. "There's tremendous variability in the way physicians select drugs and the way patients respond," says consultant Marybeth Luptowski.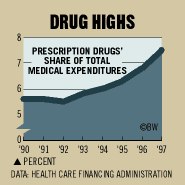 HMOs have tried to stem the tide by limiting which drugs they paid for. But such decrees alienate doctors and patients. And so far, HMOs have proven ill-equipped to micromanage doctors' prescribing patterns. Instead, more plans are guiding consumers to lower-price drugs by setting tiered copayments. For approved branded drugs, patients pay $10 or $15 per prescription. If they choose the generic equivalent, the tab is $5. An unapproved product costs $25 or more.
It's not a perfect arrangement. For patients with chronic conditions, $25 per prescription adds up quickly. But the alternative is unchecked demand and wasted resources. "Bringing in some accountability does bring the best of both worlds in terms of value and choice," says Nicholas A. Hanchak, Aetna's head of pharmacy management. Consumers should enjoy the bounty of drugmakers' research labs--but they should help pay their way, too. Don't fault HMOs for trying to bring some sanity to the system.
Before it's here, it's on the Bloomberg Terminal.
LEARN MORE