Britain: In A Rate Cutting Mood
The Monetary Policy Committee has served notice that interest-rate cuts to avoid a recession will not be too little. But will they be too late?
The MPC's surprise quarter-point cut on Jan. 7, the fourth in as many meetings, dropped the policy rate to 6% from 7.5% in October. Plus, the action's accompanying statement acknowledged continuing international risks and less concern over domestic wage pressures, suggesting another cut in February. Analysts now expect the rate to fall to 5% or less by midyear, a faster pace of policy easing than earlier anticipated.
The problem: Recession has already taken hold in manufacturing, which accounts for 20% of gross domestic product, while construction, retailing, and the broad service sector are softening. November manufacturing output slipped 0.2%, the fourth drop in a row, and three-month growth fell 1.1%, the worst in five years (chart). Moreover, output in the large service sector slid in December for a second straight month, based on the latest purchasing managers' survey. Economists expect fourth-quarter GDP, to be reported on Jan. 22, to have been barely positive.
Britain's weakness stems from sterling's sharp appreciation since mid-1996 and the Asian crisis, which hit manufacturing. It's also a delayed result of interest-rate hikes since late 1996. Rates are still twice the euro-zone level, and trade-weighted sterling is 18% higher than it was 1 1/2 years ago.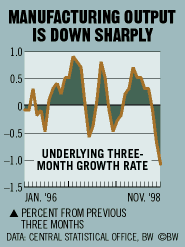 So far, fears of outright recession are just that, especially given the surprisingly strong December report on the labor markets. Looking ahead, the currency should soften as the MPC narrows Britain's rate differentials with the U.S. and the euro zone. Also, the early benefits of recent rate cuts should kick in by spring.
The MPC seems to be moving rates to a "neutral level"--neither stimulative nor constrictive. That may be as low as 4.5%, but the MPC has the leeway to go that far. The 2.5% underlying retail inflation is within policy target, and core producer-price inflation, at -0.6%, is the lowest on record.
Before it's here, it's on the Bloomberg Terminal.
LEARN MORE