'Twas The Season For E Splurging
The holiday online shopping boom was big, but can it last?
Heather Green
It's the morning after the blockbuster holiday selling season, and Internet retailers are trying to figure out what to do for an encore. Sure, sales tripled, and more new consumers came online than most cyber retailers expected. And consumers got more eclectic--branching out from books, CDs, and computers. Apparel sales, for example, were up sharply at online stores and at the Web sites of retailers such as Gap Inc.
But can merchants sustain the growth they enjoyed in 1998's holiday season? Can they, in fact, keep the customers coming months after the holiday-shopping panic that drove them online is only a dim memory? The $3.5 billion in sales over the 1998 holiday period accounted for 45% of total online sales for that year. In stores, holiday sales typically account for 10% of the annual total, according to ActivMedia Inc., a market research firm. For online shopping to evolve into a sustainable, profitable business, it needs to become a year-round pastime, taken up by the masses, not just the PC elite who dominate the Web stores today (table).
Even Amazon.com Inc., the most stunning success story in the online mall, is wrestling with these issues. On Jan. 5, the company disclosed preliminary results for the fourth quarter. While sales more than tripled, to $250 million, Amazon still is unlikely to narrow its 54 cents-per-share loss. In fact, its gross margins are falling--because of aggressive pricing, higher costs related to filling orders, and narrower profits on sales of music and videos, which exceeded expectations.
"REALITY CHECK." Nobody--least of all Wall Street investors--is concerned about Amazon. But the figures suggest it's going to cost more than expected to provide the services that will develop the loyal clientele Amazon is betting will someday generate profits to erase its years of losses. Amazon founder and CEO Jeffrey P. Bezos declines to comment on how much the different factors contributed to the lower margins. But he says the fourth-quarter results are in step with Amazon's plans to grow into new markets and provide top-drawer customer service.
The time to spend heavily on marketing and service is now, argues Bezos, when the market is being formed, even if the company has to incur extra costs such as overnight delivery to keep customers happy. "Are E-commerce companies going to be profitable? Yes," he says. "Any business that creates genuine customer values reaches a state where it's profitable."
Still, Amazon's margin squeeze could be a warning sign for other retailers. For example, while Eddie Bauer Inc.'s profitable online unit saw sales triple during the 1998 holidays, its order-processing costs rose as well. Amazon's experiences are "a reality check that will make companies really quantify where money is spent and where they get the returns," says Judy Neuman, divisional vice-president for interactive media at Eddie Bauer.
Then there's the question of sales growth online. Optimistic projections abound: Forrester Research Inc. sees online sales growing almost 13 times, from an estimated $7.8 billion in 1998 to $108 billion in 2003. Visa predicts that by 2003, as much as 10% of its sales volume will come from the Net, vs. just 1% in 1998. But it's likely that some products will sell better than others. Some 20% to 30% of all book sales could take place online within five years, according to Boston Consulting Group Inc., while clothing could merely follow the catalog model. Catalog sales account for just 8.5% of the women's clothing market. "I don't think we know yet what model [online sales are] mimicking, which is why retailers are paying attention to it," says Michael Nevens, director at McKinsey & Co.
BACK FOR MORE. Another question is whether online merchants can reach a mass market. In 1998, households with annual incomes of more than $50,000 accounted for 47% of total retail sales--but 74% of online sales. Forrester sees lower-income consumers buying more over the next several years, but upper-income households still accounting for 66% of online sales by 2003. That's a desirable demographic, but it may be too narrow to support all the retailers rushing the Net.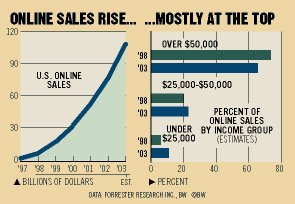 True, the same factors that drove holiday sales--convenience, time savings, comparison shopping--will continue to drive traffic throughout the year. And a recent survey of members by America Online Inc. shows that 98% of shoppers plan to buy online again during the next six months. Meanwhile, there are always new reasons to log on: Major retailers, for example, are expanding online. J.C. Penney Co., which sells about 3,500 items online now, expects to have all 10,000 to 12,000 items in the spring catalog online, and all 20,000 fall catalog items online. By then, Internet stores will be gearing up once again to try and top the previous year's blowout.
Before it's here, it's on the Bloomberg Terminal.
LEARN MORE