The Titan Who Remade Tinseltown
by
THE LAST MOGUL
Lew Wasserman, MCA, and the Hidden History of Hollywood
By Dennis McDougal
Crown 560pp $27.50
At Universal Pictures' commissary, a glistening wood-and-glass eatery called The Grill, Hollywood power lunchers are doing deals. Barry Diller, whose USA Networks Inc. acquired Universal's TV-production business last year, talks in hushed tones in one of the booths that line the room. So does a conspicuous group of black-hatted rap artists. Although the busy dealmakers might not realize it, history abounds in The Grill--recalled by posters of such long-ago classics as Buster Crabbe sci-fi B movies. History is recalled as well each day at noon, when 85-year-old Lew R. Wasserman, tall and regal with his full head of gray hair and trademark dark suits, holds court at a prime corner table.
Wasserman, who works half-days at the high-rise headquarters building that bears his name, has a lifetime contract for $1 million a year as a consultant to Seagram Co., which paid $5.7 billion for control of Universal parent MCA in 1985. Few could say what Wasserman does, but it hardly matters. For without Wasserman, known in his earlier days for his quick mind and quicker temper, there would be no MCA today. Groomed by MCA's founder, Jules Stein, Wasserman was a key player--as the Chicago booking company for music acts evolved from its speakeasy days to become the most powerful outfit in Hollywood.
In his well-researched if dry biography, The Last Mogul, former Los Angeles Times reporter Dennis McDougal chronicles Wasserman's climb from Cleveland's working-class Woodland Avenue to a seat next to starlets and Presidents. It was powerful agent Wasserman, McDougal writes, who rewrote the rules of Hollywood, securing for B-movie king Ronald Reagan the town's first $1 million contract and inventing the now-commonplace practice of "packaging," by which agents claim 10% of the action for offering up actors, directors, and scripts to studio chiefs. Indeed, it was Wasserman, as Jack Warner would later complain to antitrust investigators, who almost single-handedly destroyed the star system, by which studios kept their actors under long-term, low-paying contracts.
Much of this is well-known. But McDougal does a workmanlike job of piecing together Wasserman's ascent, his youthful contact with Cleveland gangsters, and his association with Stein, who proved a brilliant dealmaker. Setting a pattern that would typify its decades-long win-at-all-costs attitude, Stein's Music Corporation of America from the early 1930s won unusual support from the American Federation of Musicians, which helped MCA act as both agent and producer of radio programs featuring its bands. Musicians and rival band bookers cried foul, but nothing illegal was ever proven. Years later, in 1952, with Wasserman running MCA for Stein, the Screen Actors Guild would grant MCA a waiver allowing it to produce its own TV shows, something not permitted other agents. At the time, the SAG president was Reagan, who by then owed his renewed career to Wasserman.
As it had done with Reagan, MCA seemed to perfect the art of using its talent to get what it wanted. Early on, MCA agents encouraged their star clients to walk off movie sets, claiming illness or creative differences, to get more money. And MCA, which got 10% of everything its stars or directors made, elevated stealing clients to an art form. It unsuccessfully offered, for example, to buy the young Rock Hudson a house if he would sign with MCA. Then it backed off, agreeing to split with Hudson's existing agent any future increase it could win for the actor. It didn't take long before Hudson, overwhelmed with hot offers, dumped the other agent.
Wasserman could be heartless when a star no longer served his purposes. "You're through, washed up," Wasserman told a teary-eyed Shirley Temple. "Here," he said, pushing a Kleenex box across his desk. "Have one on me."
This is fun to read about. But there's little that's new, and McDougal, who never interviewed the press-shy Wasserman, relies heavily on other published accounts. Moreover, he often emphasizes the salacious: MCA agents are depicted as sleeping with their clients and hushing up indiscretions. And the author points to a link, never fully explained, between Marilyn Monroe's alleged trysts with Attorney General Robert F. Kennedy and the launch of a criminal investigation of MCA by the Kennedy Justice Dept.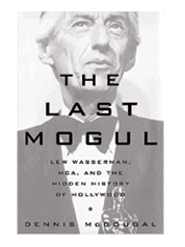 For a man who controlled so much of Hollywood, the end was not only quick but brutal. With multinational giants such as Rupert Murdoch's News Corp. coming to dominate the entertainment scene, Wasserman sold his company to Japanese electronics giant Matsushita to get the capital he needed to buy and build. It never happened. First, he and MCA President Sidney J. Sheinberg were turned away from buying Virgin Records and the CBS network, then were kept in the dark as Matsushita negotiated MCA's sale to spirits giant Seagram. Wasserman, who had run the company for Matsushita, was out. He was a multimillionaire whose company's heritage includes such films as Steven Spielberg's Jaws and ET, along with such attractions as the Universal Studios Tour in Orlando. But the entertainment giants' world had passed him by--and left him a relic whose best days now involve reliving Hollywood history at Universal's Grill.
Before it's here, it's on the Bloomberg Terminal.
LEARN MORE